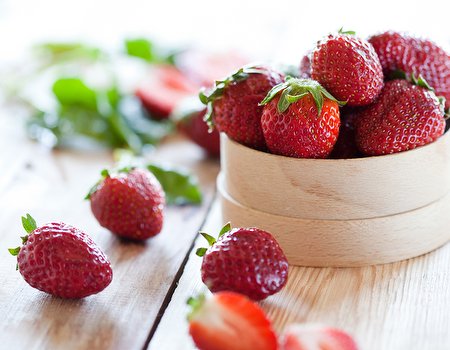 When it comes to summer fruits, one small contender stands head and shoulders above the rest. As British as drizzle-dampened BBQs and pebbly beaches, the humble strawberry deserves a following that extends far beyond Wimbledon fortnight.
Their sweet flavour may be their calling card, but as well as having the bizarre power to make you feel happy (a recent study by the University of London found 86% of people felt more relaxed just by thinking about the seed-studded fruit), strawberries deserve far more credit for their health credentials.
Break out the Pimms, crack open the cream and purchase a punnet; here's why strawberries should be your homegrown fruit of choice:
Forget oranges, a mere seven strawberries contain your entire RDA of vitamin C.
Despite their sugary reputation, strawberries are actually comparatively low in fructose. They are also a great source of fibre (and tastier on a hot day than a bundle of greens).
100g of strawberries contains just 50 calories (and zero fat). Pile 'em up and tuck in.
Stawberries are full of flavonoids (plant pigments that create their bright red skin). These natural compounds can help lower your risk of heart disease by reducing cholesterol.
Strawberry skin also contains anthocyanins, which - as well as being a bit of a mouthful to pronounce - can boost short-term memory if eaten regularly over the course of eight weeks.
Whereas many fruits contain acids that soften the outer layer of tooth enamel, strawberries contain malic acid, an enzyme that actually cleans stains off your teeth. Coffee and red wine fans, take note.
Strawberries contain higher levels of ellagic acid compared to many other varieties of fruit and veg. This antioxidant is currently being tested to see whether it can help fight cancers, which is impressive enough, but it also protects collagen fibres in our skin.
Potassium, magnesium and vitamin K; strawberries rank highly for all three, meaning that with a cheeky dash of (calcium-rich) cream or yoghurt, a bowl can help contribute towards healthy bones.
Looking for new ways to incorporate strawberries into your diet? Fresh is always best, but visit our Pinterest board for a sneaky few recipes that'll make your mouth water.