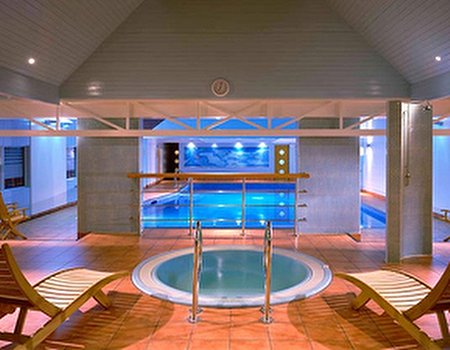 As much as we love the British seaside, our romanticised, Enid Blyton-bred vision soon disappears when trying to set up camp on a crowded, shingly beach. If you fancy a break without the sandy sandwiches and the menace of noisy seagulls, simply swap coastal cliffs for a spa stay. Not convinced? Sticks of rock and '99 Flakes aside, here are our five top reasons why summer spa-ing in the UK can't be beaten...
Pristine pools
In our humble opinion, the best way to cool down in the heat is by taking an impromptu dip. Sidestep seaweed, submerged rocks and questionable flotsam by choosing to swim in a spa's crystal clear waters. You won't be at the mercy of the tides, you can forget about those 'hilarious' surprise waves and there won't be an ocean critter in sight. Check out our pick of the pools in our top five round-up.
Gorgeous gardens
If aquatic adventures are not your thing, you could always grab a book and enjoy the great outdoors. Whether you choose to wander acres of immaculate gardens or laze in the sunshine as life sails by, spa grounds - like those at Greenwoods Hotel Spa and Retreat in Essex - promote a level of relaxation that goes above and beyond a deck chair propped up on a patio. With freshly-squeezed juice in hand, you can even pretend to be Lady (or Lord) or the manor... just us?
Escape the office without taking time off
A spa weekend provides a change of scenery and a chance to recharge your batteries without eating into your holiday allowance. You can also forget cramped flights and trying to remember which safe place you used to stash your passport - many spas (including the sleek East River Spa at Radisson Blu Edwardian) can be found within a few miles of major towns and cities, meaning travel time is kept to a minimum.
Get expert guidance
Always wanted to give yoga/body wraps/colonic hydrotherapy (delete as appropriate) a go, but been too scared that you'd bump into someone you know? A spa day presents the perfect opportunity to try something new away from well-visited local venues. Expect smaller class sizes (with one-to-one tuition available at Surrey's Grayshott Spa), expert instructors and practitioners, and possibly even tailored programmes. What more could you want?
Shake off post-holiday blues
If you've managed to jet off to an exotic locale already this summer, returning to reality may well have left you feeling down. Battle the back to work slump by sneaking away for a short spa stay and enjoy what is effectively a second getaway. Focus on healing, shun the mojitos and emerge feeling refreshed, rebalanced and ready to take on the world once more.