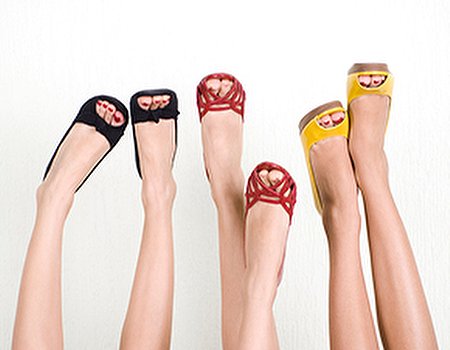 The shift in seasons and shoe styles can play havoc with your feet. Whether you're a slip-on fan with aching arches, or a platform princess who wants to shake off the pain of tight calves, we've tracked down some solutions that'll help you take any discomforts in your stride...
High heels
The problem: Heels put your foot into an elevated position, lifting your arch and making you take shorter, more forceful strides. Studies have found that if you are a habitual heel wearer, it's very likely that you will carry your feet in a flexed, toes-pointed position, even when walking barefoot.
As a result of your altered stance, fibres in your lower leg muscles can shorten, putting a strain on your ligaments (including the all-important Achilles tendon, which connects your calf muscle and heel). Tendons are more effective energy-storing 'springs' than muscles , so the inefficient use of shortened muscles can quickly drain energy, cause muscle fatigue and result in strains. Heels also shift your weight forward and put increased pressure on the balls of your feet. This can lead to the all familiar burning pain and blisters at the base of your toes, as well as lower back pain from an altered spinal position.
The solution: As well as trying to keep time spent in your heels to a minimum, Pilates can help minimise side effects and injury risk.
Improve your core stability, increase muscle coordination and correct your posture with weekly sessions and supplement your good work with targeted at home exercises.
David Higgins, Master Trainer and Co-Founder of TenPilates advises focusing on calf and thigh stretches to lengthen muscles and improve ligament flexibility. "Stand with your toes on the edge of a step and relax your heels down, until you feel a stretch through the back of your legs," he said. "Stretch for 45-60 seconds and then repeat."
Flat shoes
The problem: Just as heels can over-work your calves, excessive flat shoe wear can mean muscles are left dormant and contracted for long periods of time. The lack of heel and shock support in shoes such as ballet flats also puts you at risk of developing a painful heel condition called plantar fasciitis – an inflammation of the plantar fascia connective tissue in the arch of your foot, which if not treated may need corrective surgery.
The solution: Calf stretches and lower leg/foot massage can help keep muscles loose and your plantar fascia supple. Book in for a Decléor Aroma Foot Relief at The Spa at Macdonald Portal Hotel Golf & Spa and enjoy essential oil massage and refreshing reflex point techniques.
At home, the herbal blend (and Wahanda HQ favourite) Tiger balm has a warming and relaxing effect on muscles. Apply to your calves after a lengthy stroll and put your feet up as it gets to work.
Flip Flops
The problem: Although their minimalist design lets your feet breathe in hot weather, flip flops can cause their own podiatry problems.
The vertical post used to keep the summer shoes on can cause you to curl your toes excessively and take shorter steps, leading to cramps and stiffness. Your foot muscles are forced to be permanently engaged and fire every time you take a step to readjust their grip. This puts strain on your metatarsals and can result in stress fractures.
Toe flexors – to give them their scientific name – also end up fighting against your natural action when walking, which means pain can also spread to your hips and spine.
Finally, as your feet are left completely exposed, your toes are subjected to stubs and scrapes that would normally just leave small scuffs on your shoes.
The solution: Aside from the massage therapies prescribed for heel and flat shoe wearers, flip flop devotees can benefit from a little beautifying TLC.
A full pedicure including cuticle work and exfoliation, like the Jessica Zen Spa Pedicure, will get your feet looking - as well as feeling - good as new.