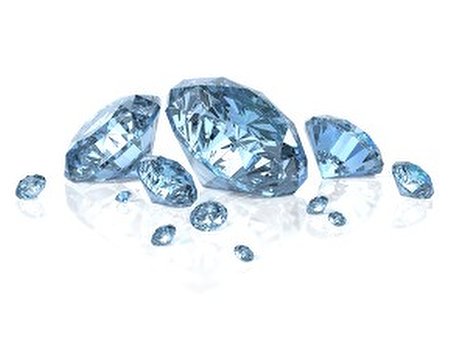 Do you have a penchant for pearls, a gluttonous appetite for gold or a disgraceful diamond addiction? Precious metals and glittering gems may end up punishing your bank balance, but it just so turns out that in another guise, they could work wonders for your body.
If you really want to sparkle, then postpone the trip to Tiffany's, cancel the Cartiers and halt your pilgrimage to Hatton Garden. Instead, keep reading and learn how to shine all over with a few of a girl's best friends...
Pearl Body Wrap
The pearl body envelopment at Aqua Sculpture Day Spa in Hammersmith is a body wrap treatment with a shimmering twist. Following a thorough exfoliation, a moisturising concoction containing white pearl extracts is smoothed all over your body and left to be soaked up by your thirsty skin. After 80 minutes of luxurious relaxation, you walk away re-hydrated, tautened and plumped with beautifully iridescent limbs.
Diamond Microdermabrasion
More commonly known as a silk peel™, diamond microdermabrasion is tough on wrinkles and blemishes but gentle on the structure of your skin. It utilizes 'wet abrasion', where a mix of cell-stimulating serums and medical grade diamonds are gently moved across the skin by a special designed machine, leaving behind deep-penetrating nutrients and a fresh faced radiance. Unlike microdermabrasion, a silk peel doesn't leave you with post-treatment redness, so you can show off your gleaming new skin immediately after your session.
To give it a ''glow'', visit Violet Clinic Body and Skincare or check out the venues offering the treatment that are listed on Wahanda.
Minx Manicure
When it comes to accessorising every one of your fingertips with silver (without resorting to selling off your possessions), Minx is the go-to treatment. The liquid metal look is extremely difficult to replicate with nail polish and is all too easy to smudge and chip during that awkward 'dry-to-touch-but-not-if-bashed-on-a-keyboard/new pair of jeans/coffee mug' period.
To brush away brush manicure woes, take advantage of the 50% off the Top to Toe Package atEnamel Nails and Beauty Boutique in Leeds.
Gold Facial
Yes, a 24-carat gold facial really does involve the use of gold. Chrysotherapy (as it's sometimes called) starts with a hydrating compound being massed into your skin before a process called nano-misting prepares it for the application of thin sheets of gold leaf. A second round of nano-misting seals in the gold and then the whole lot is softly rubbed in.
The inclusion of gold is not simply an expensive gimmick, though. Once it has been applied, the skin tries to reject the metallic layer because it's a foreign object, and in order to do that it builds new cells. Under normal circumstances, your skin produces new cells every 28 days or so, but the gold facial procedure accelerates cell renewal, firming the skin and leaving it looking youthful and refreshed.
To experience beauty with the Midas touch, visit Gina Conway Aveda Lifestyle Salon/Spa in Notting Hill.
Tooth Jewellery
Subtlety is key when it comes to tooth jewellery, as the idea is to give your smile an understated boost with a minimum amount of bling. A single crystal applied to the corner of a tooth by a dentist will give you the cute and cheeky glimmer you are looking for, whereas a whole row of diamond-encrusted gnashers á la Kanye West just looks a bit...well, a bit silly really. Plus, we bet that bedazzled lot are a pain to clean.
Ask your dentist about tooth jewellery, or find a cosmetic dental practice near you by searching the Wahanda listings.
Amethyst Crystal Steam Room
At The Spa at The Mandarin Oriental, London, you can enjoy the use of an amethyst crystal steam room. It may seem like a bit of a mind boggling mouthful, but the unique treatment room at The Mandarin has been designed to induce tranquillity and inspiration as well as helping with peaceful meditation.
What makes it different is the large amethyst crystal which is mounted in the centre of the room, supposedly channelling healing powers through the muted coloured lighting and the infusion of fragrances which hang in the moist air. Sit back in the pleasant heat and simply let the gem do the (crystal therapy-style) work.
Crystal Wand Massage
Another variant of crystal therapy is crystal wand massage. The type of crystal used will vary depending on the condition being treated and the wand is usually heated before being utilised as a tissue manipulation and drainage massage tool.
Unfortunately sapphires, emeralds and rubies do not feature in the crystal wand selection, but I have a feeling being prodded with the less glamorous (but holistically more significant) rose quartz baton may have more of a holistic healing effect.
To try out crystal wand massage, book in at Pure Mind Body & Spirit in Cheshire.