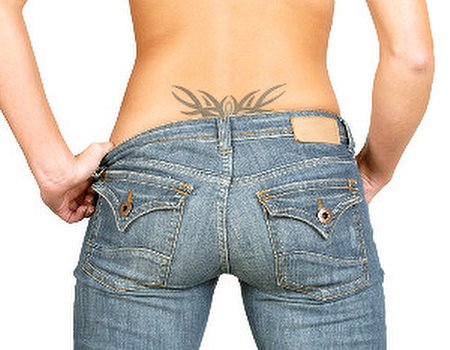 Have some ill-conceived (i.e. drunken) ink that you are dying to get rid of? Perhaps a certain name remains etched on your skin that you'd really rather forget. If you're unlucky enough to be lumbered with a tattoo that you've fallen out of love with and are determined to do something about it, you're not alone.
Celebs have also made body art choices that they've grown to regret and in the last week, both Kelly Osbourne and Peter Andre have spoken up about their disastrous designs and the steps they are taking to be rid of them.
Kelly's entire body is peppered with tattoos, but following a recent image overhaul and career change (a foray into acting) she has decided that many of them are less than desirable. Kelly got inked when drunk most of the time, and so it's no surprise that she quickly grew tired of her tipsy tatts. After covering a number of them up with make up during the making of her latest film, she realised that she would be better off without a couple of creations:
"I want to get rid of the keyboard on my forearm," she explained in her latest column for a weekly celebrity magazine. " I can't even play the piano. And I don't like the heart and bones on my wrist [either]," she added.
Rather than opting to continue with a body make up regime (as 50 Cent has to before each film role) or to have the emblems adapted, Miss O has plumped for laser tattoo removal. It will probably take a course of treatments spanning a few months for her motifs to fade away and although treating her forearm area is bound to sting, she is taking comfort in the fact that someone has promised her it will hurt less than the original needlework. You could have easily spared yourself lots of pain, Kelly...
Peter Andre made the classic mistake of getting a lover's name tattooed on his person. Now that he and wife of three and a half years, Katie Price, have gone their separate ways, he (wisely) made the decision to remove the 'Katie' that encircled his ring finger. Like Kelly, Peter chose laser removal and his finger is now almost completely Jordan-free.
He has said he couldn't be happier with the results and it certainly looks neater than the remains of his ex's 'Pete' tattoo - Katie opted to simply have a crudely scribbled cross inked over the top of the name instead of covering it with a more intricate design (the preferred method of other stars like Angelina Jolie and Britney Spears). We suppose it acts as a reminder of her decisions and accurately portrays her emotions when it comes to the matter though!
If you're serious about saying goodbye to your skin scribblings, then have a read of our Wahanda guide to tattoo removal and browse our list of venues that offer the treatment.