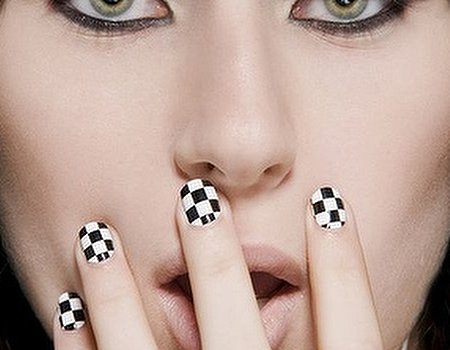 If you want to get your claws into the latest looks these days, you simply can't scrimp on the details. From catwalks and covers to carpets (red ones, naturally), celebs have been sporting elaborate and eye catching nail art in the build up to the party season. The nude tones that Britain embraced throughout the summer have given way to blinged out fingertips and there is no quicker nor easier way to make a manicure statement than with Minx.
The California based company's designs have already been spotted on the trendy talons of Rihanna and Lady Gaga, but numerous salons up and down the country are now offering the glam fix to the likes of me and you. Waterproof and lightweight as well as speedy and original, Minx application takes a fraction of the time devoted to traditional varnish-based designs and there are hundreds of different colours and patterns, ranging from chequered prints and vinyl finishes to infinitely detailed illustrations and text.
Whether you feel like flashing an impossibly shiny metallic set on your next night out (á la Beyoncé) or have your eye on some intricate, retro florals similar to those snapped in a Twitpic by Katy Perry, take advantage of our latest Nirvana mobdeal, 25% off a Minx Manicure or Pedicure at The Spa Co Urban Oasis, or one of our other Minx offers by booking an appointment and enjoy perfection right down to your pinkie. You'll walk away sporting even, stylishly decked out nails which simply cannot be recreated with polish.