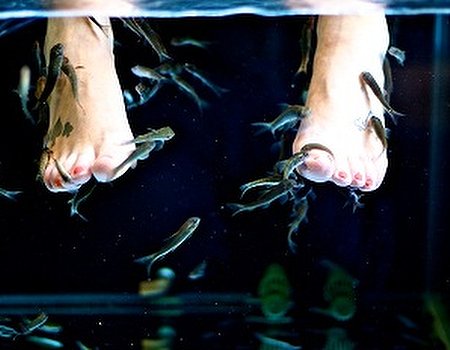 London based shopaholics: listen up! If you've managed to reel in a few bargains but have most definitely shopped 'til you've dropped, then slip off those 'eels and vow to make one last stop on the high street this week.
Lucky Selfridge's customers can now soothe and revive the soles of tired tootsies right on the high street thanks to Aqua Sheko's shop floor pop up fish spa. The luxury fish spa specialists have teamed up with the capital's famous department store to help celebrate the re-launch of their shoe department and confirm that the third floor of the flagship Oxford Street branch is the plaice to be this month.
Featuring two tanks that have been crafted in the same elegant oriental design as those used in the company's Kensington spa and the famous Garra Rufa 'doctor' fish (a breed of tiny, toothless carp that gently lift away dead skin from the feet), the specially created mini fish pedicure provides a spot of painless A-list pampering amongst the shelves . The exfoliating sensation has been described as a pleasant and tingly like a light massage and is said to leave your feet feeling fintastically smooth.
You can net a tester ten minute treatment at the pop up spa for £12 or extend your toe-dip to 15 minutes for £17. If you find yourself hooked, a full scale 45 minute deluxe treatment at Aqua Sheko, Kensington (including 30 minutes of fish therapy and a post-plunge foot massage) will set you back £45.
This temporary fishy fixture is only in place until next Wednesday 30th September, so curious fashionistas had better get their skates on!