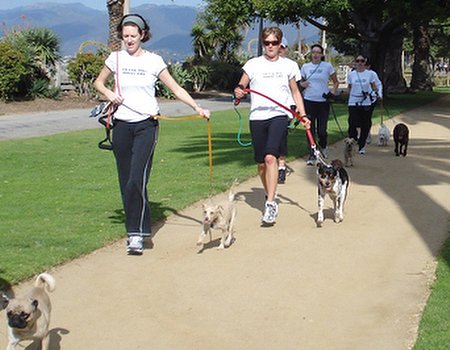 Recent indulgences left you feeling 'ruff'? Is your pet looking more paunch than pooch? Looking for a fitness plan that'll give you both a new 'leash' of life?
Well, you can Thank Dog® because the ideal regime exists. California based dog trainers Jill and Jamie Bowers have teamed up with personal trainers Heath Walton and Cassie Shannon to create Thank Dog!® Bootcamp: a fun one hour exercise and training session that is designed to push both you and your dog to your fitness limits.
Following a health and behavioural evaluation, certified (human and animal) trainers guide you through a strenuous weights and cardio work out class combined with canine obedience training. There is a one dog per person policy, dogs are kept on a lead at all times and are taught to patiently wait whilst their owners undertake strength exercises. You can even take part if you do not have your own furry friend, as Thank Dog!® run a 'borrow a dog' scheme for those who feel that their exercise routine would benefit from the inclusion of a canine companion.
'Paws' for a minute: sound like something you'd like to try? If you're in the US, head for the sunshine of LA armed with a set of hand weights, a mat, a towel and some water for you and your doggy sidekick. Classes accept humans and dogs of all fitness ranges and abilities, so there's no need to worry about being left out and anyone can join at any time. Don't expect an easy ride though; Thank Dog!® is nowhere near as laid back as pet yoga or a simple dog walking group. The aim is to get trim and the centre proudly displays before and after shots of human and hound weight loss on their website as motivation.
As we are a nation of dog lovers, we're sure it won't be long before this canine craze hits the UK shores. Owners had better keep an eye out for news; you'd be barking mad to miss out!