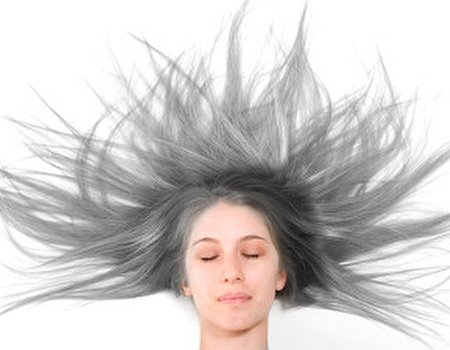 Fashion barometers revolve around two things: celebrities and the couture runways around the globe. The second half of 2010 marked the return of muted tones to stylish wardrobes following their earlier fashion week debuts, but if there is one hair colour trend that has the fashion world abuzz, it's grey.
Unhelpfully dubbed 'granny chic' by its detractors, sterling strands have been cropping up on the heads of fashionistas since spring and the spread of the phenomenon shows no signs of stopping. Gaga has embraced platinum hues, as have Kelly Osbourne, mini blogging phenomenon Tavi, Kate Moss and Pixie Geldof, but at the start of the year, model Kristen McMenamy went one step further by proudly stepping out with a naturally metallic mane.
The 46 year old debuted her brave look during New York fashion week and then appeared on the cover of Dazed and Confused and in a spread in Vogue sporting pewter locks, explaining that she thought 'all that grey hair would make a beautiful picture.'
"I think there's beginning to be a backlash to this eternal quest for anti-ageing that has led to so many celebrities looking falsely nipped, tucked and squeezed," says Nicola Moulton, the beauty and health director at UK Vogue. But with younger stars jumping on the blue rinse bandwagon, just how do you fake grey tresses if yours still have some colour left in them? And more importantly, will re-creating the look cause any long term damage?
If your hair is naturally dark and you want to join the argent army, there's no hiding that a lot of peroxide will be involved. There is no such thing as a grey dye and so after bleaching your barnet, the stylist will "put in an ash tone to stop the brassiness, and [then your hair] goes a slight grey-blue," explains Neil Moodie, of Bumble and Bumble. The effect usually fades over the course of five to six weeks due to the weak concentration of the colour, and a good conditioning routine is a must to prevent breakage and keep hair looking glossy and healthy rather than dusty and dowdy.
Edward Darley, colour director for Vidal Sassoon recommends that natural blondes and those with paler colouring opt for washes of fiery pinks, oranges and yellows amongst the grey to help lift their complexions. Anyone with warmer skin tones should veer towards slices of cooler blue, green and charcoal colours in order to preserve the strength of their hair. Those who are defying convention and leaving their natural grey on show should also visit their salon for regular taming treatments, as hair that has lost pigmentation is often coarser and drier than average.
Whether you pick bubblegum pink, violet or a less vibrant steely hue, let Wahanda know if you plump for a pearlescent coiffure and how you found the shift to silver.