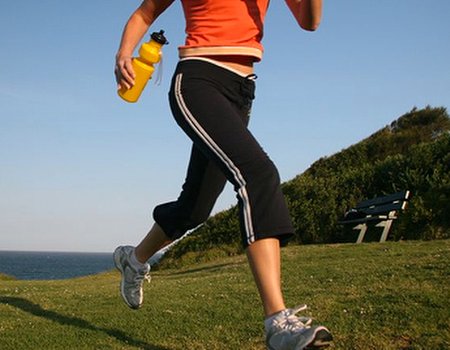 You watch what you eat and take time out to relax, but are you getting enough exercise? Probably not, according to the Department of Health, especially if up until now you have been following their '5 x 30' activity guidelines (undertaking 30 minutes of moderate exercise - such as cycling or periods of brisk walking - 5 times a week).
In response to the latest research, the government is now saying that at least two and a half hours of 'moderate to vigorous intensity physical activity' (such as "heavy gardening, group sports [including] volleyball, football and basketball, or swimming") is needed between the ages of 19-64 to protect against osteoporosis and damaging falls in later life.
During these more intense activities, you should push yourself to the point where you are forced to breathe harder, you notice your heart beating rapidly and it becomes more difficult to carry on a conversation. However, stints of more strenuous exercise needn't be long and arduous, as the 150 minute activity quota can be split into several more manageable stretches that last for as little as 10 minutes.
The change in recommendations is accompanied by findings that suggest 75 minutes of intensive exercise a week provides the same benefits as getting twice as much moderate exercise. This means that using your free time to participate in team games or get in a few of lengths at the pool could be more efficient (as well as more enjoyable) than a lonely slog on an exercise bike in front of Eastenders..
Also new to the requirements are periods of "muscle strengthening activity", which the Department suggests people should take part in twice a week. Luckily for those of use who are not big on weight lifting, this needn't involve endless bicep curls, as lifting and carrying heavy shopping loads (such as groceries) also counts.
If you are a gym bunny, such guidelines may seem unecessary, but two out of every three adults in Britain is currently registering as either overweight or obese and changing the nation's diet is only half the problem. If current trends of inactivity and waistline growth continue, the figure looks set to rise to 90 per cent within the next 40 years.
"We know that more than 60 per cent of adults are not active enough," explained Sally Davies, England's Chief Medical Officer, "which is why today the UK Chief Medical Officers are launching the first UK-wide guidelines that draw on the latest science to inform weekly levels of physical activity - whatever your age."
If your routine needs a refresh and you're not sure where to start, have a look at our great value fitness offers - with hundreds of deals on everything from perspiration inducing Power Plate to energetic Zumba, we'll get your healthy heart pumping in no time!