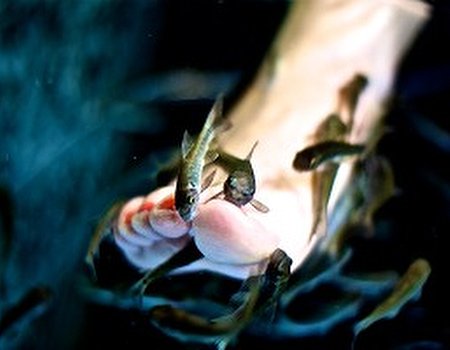 It's time to get into the fish-mas spirit! Debut some silky soles courtesy of our finned friends the Garra Rufa fish who have just taken up residence at MALIKA's new salon in the sparkling One New Change development, St Pauls.
Stressed out Christmas shoppers can now stop off for some tootsie TLC at the central London salon, which is the first in the chain to offer a luxurious fish pedicure treatment to customers.
Forget festive kissing under the mistletoe- at One New Change, it's all about taking the plunge and letting the toothless wonder-fish kiss your tired toes back into shape!
The boutique chain's founder, Ritu Patel, is particularly excited by the arrival of the tiny aquatic therapists and is keen to emphasise that as the temperature drops, it is especially important for Londoners to look after their feet:
"Winter can be very punishing on our feet," explains Ritu. "It is easy to forget about your feet when you are hiding them away in socks and boots but it's essential that we look after them. Our Fish Pedicure Treatment is an enjoyable and relaxing way to remove a build up of dead skin and maintain smooth, good looking feet all year round."
Four brand new pedi-pools await visitors and state of the art technology ensures that each one is kept in tip top condition. The water used is constantly filtered to keep things hygienic, ultra-violet lights add an extra level of sterilisation and a constant oxygen supply is fed through the tanks to keep the famous fish healthy and happy.
Once you've whipped off your woolly socks or (Christmas) stockings, all that's left for you to do is to simply sit back and enjoy the bubbling bliss as the Garra Rufa gently exfoliate and soften your freshly washed feet. Whether you choose a 10 minute (£15), 25 minute (£25) or 40 minute (£38) treatment, when it's all over, your tingling toes will be left polished and perfected, ready for seasonal soirees and sky high heels. Fabulous!
If you fancy hot-footing it along to St Pauls to meet MALIKA's slippery new staff, start by checking out the dedicated One New Change salon page.