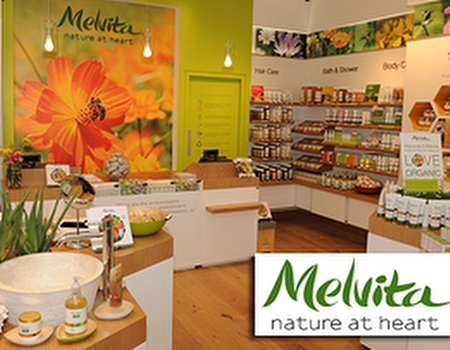 Just before the Easter break, Wahanda were lucky enough to be invited to sunny south London for the opening of French organic beauty brand Melvita's second UK store.
In line with the company's environmental philosophy, the Putney branch has been crafted entirely from natural, renewable, PEFC-certified European wood, finished with Eco-label, low emission paint and decked out with a sky mural ceiling and 'living wall' (covered in air-purifying plants). Both inside and out, the shiny new store looks unlike any other beauty boutique on the highstreet and is packed full of the entire Melvita range of over 300 natural based products.
After the ribbon had been cut and the store officially opened by a slightly flustered Janey Lee Grace (Radio 2 personality, organic and natural health expert and author) who got caught up in traffic, we checked out the extensive range of lotions, washes and nutritional aids on offer.
Featuring everything from honey-based supplements to a new range of mineral filter-based suncare, every Melvita product has been dermatologically tested and certified by environmental body ECOCERT. Using their own Covent Garden based bees to produce many of the organic honey-derived ingredients (Melvita itself is an amalgamation of the Latin for 'honey' and 'life'), each formula not only smells lovely and helps you look great without causing chemical irritation, but is good for the environment too.
We particularly liked the creamy, peach scented sun cream, the wide range of restorative oils and the easily absorbed, multipurpose Universal Cream, which kept our hands soft for hours afterwards!
If you'd like to find out more and would like to experience the range for yourself, check out our blog covering some of the history of the brand, visit Melvita's Putney or Covent Garden stores (where you can take a look at their rooptop glass hive enclosure) or head to uk.melvita.com