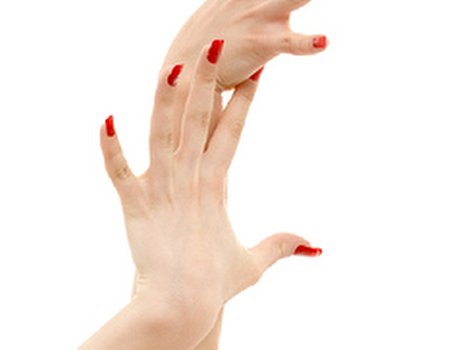 From the fingertips of New York City slickers to those of North London lovelies- Joanna and Lynda-Louise Burrell know a thing or two about nails. During her 11 year career as a stylist in the States' most fashion-forward city, Lynda-Louise had sat through over 570 mani-pedis and had worked alongside the best session-technicians on advertising campaigns, fashion shows and high-profile shoots. She decided to bring the expertise she'd acquired over to the UK back in May 2009, and has run Islington based Nailgirls Nail Spa with her sister Joanna ever since.
Nailgirls has remained something of a local gem despite Vogue and Elle both singing its praises, and its unique social and customer-tailored approach to polish really sets it apart. Rather than rushing visitors through its doors, the salon makes an effort to ensure that they are as comfortable as possible during their appointments. In fact, Nailgirls positively encourages its customers to linger on the premises with its luxury extras and quirky range of 'event' services (including weekday coffee mornings, Saturday night glam sessions and Wednesday evening boys' nights).
Fancy catching a flick whilst you have your fingertips filed? Monday movie nights are for you. Prefer to zone out whilst technicians work their manicure magic? Simply pop in a pair of earphones during your appointment and listen to tunes on one of the provided iPods as you get a fresh coat of polish.
Complimentary glasses of fizz, green tea or fruit infused water are available along with nibbles in a specialised nail 'Drying Lounge', furnished with Dali-esque lip shaped sofas and sleek Perspex chairs, and longer treatments come complete with a shoulder massage to make sure you stay relaxed whilst your digits dry. Weather permitting, you can also enjoy the great outdoors by opting to have your mani-pedi in the serene nailgirls spa garden and as all polishes used are nailgirls' own brand vegan friendly, not tested on animals, recyclable and toluene, formaldehyde, dibutyl phthalate and camphor free formula (phew!), you can bask in the knowledge of your impeccable green credentials (as well as the British sun)!
Other treats such as eyelash tinting, eyebrow shaping, hand and foot massage and (the probably slightly less enjoyable) facial waxing are also offered by the salon as part of a pix'n'mix style menu. Packages, parties and outside visits (where the nailgirls come to your house or workplace) can be booked too, but we are particularly taken by the idea of the salon as a social hub where you can pop in for a natter over your newly perfected nails.
Take a look at the Nailgirls Wahanda page or visit nailgirls.co.uk for more information about booking an appointment.