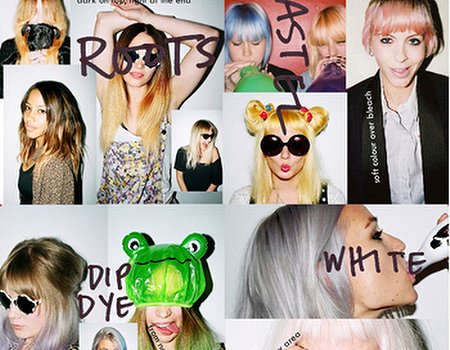 'Blue Lagoon', 'Cheeky Vimto' and 'Berocca Rinse' are just some of the menu items on offer at London's hottest new venue. Opening in the heart of the capital at the start of Fashion Week, stylish visitors are set to flock to the basement attraction, but will be dipping rather than sipping their way through each colouful cocktail of choice...
BLEACH, the sister salon of Dalston's manicure Mecca Wah Nails has followed its parent venue to Oxford Circus and is due to open a basement branch in Topshop's flagship store this Friday, 18th February. The original two-chair salon (brainchild of session stylist Alex Brownsell and Super Agent Sam Teasdale) quickly became a cult destination, with rock stars, press and cutting edge trend hunters all decending on the East End venue in order to try out the bold, peroxide-tinged signature styles.
The BLEACH space at Topshop promises to churn out the famed daring dos (including colour gradients, grey tints and painted on roots), as well as introducing a new range of specially created 'spray on' styles. Exclusive to Topshop, the stencilled designs on offer will include cute pink hearts and goth navy crosses, all produced using coloured hairspray and the skills of the salon's top stylists.
As part of the venture, BLEACH are also collaborating with cult British haircare brand TIGI, whose brash colouring products will be used throughout the salon, and Bed Head , whose fixing formulas will help keep all colourful creations looking fab. Prices for a coloured hair spray stencil will start at £20, whereas all other colour services will begin at £65.
Let us know whether you plan to dash down and make use of Dalston's coolest coiffeurs or if shapes and lightened lengths don't really sound like your cup of tea by tweeting @Wahanda. With Wahanda's offices being just around the corner, I wonder if requesting a blue rinse and couple of stencilled Wahanda fish would go down well...