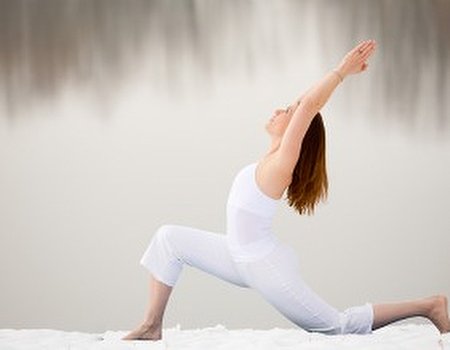 Felicity Kendal left jaws on floors across the nation when she bent over backwards to wow the Strictly Come Dancing judges with her rumba on Saturday night. Pulling off moves that would stump most of the other contestants who are half her age, she effortlessly slipped into a controlled splits position before twisting and turning with her head just inches from the dance floor.
When quizzed about her astounding athletics, 64 year old Miss Kendal had only three words to explain her flexible feat and uttered them with a giggle and grin: 'Pilates and yoga'. Apparently a newly converted devotee to the stretching and strengthening exercises, Miss Kendal was frequently seen attending sessions at a central London gym in the run up to the start of the series. Insiders say she also upped her aerobic activities, undertaking demanding gym classes in an effort to boost her fitness in preparation for the hours of dance training.
Kendal is not the only celebrity who has recently admitted that they've waved bye-bye to Botox and shunned surgery in favour of a good old fashioned exercise routine to keep them looking and feeling spritely. Kelly Osbourne has been raving about the fat burning properties of Pilates in combination with long dance classes and Dannii Minogue took to Twitter to let the world know that it was Power Plate sessions and not post-pregnancy surgery that has left her glowing inside and out during her X-Factor appearances. This Saturday, the Aussie tweeted: 'Killing from #PowerPlate...25 mins, twice [a] week!', but also praised the effects of the intense work out.
Perez Hilton is also getting in on the act and is swapping his acid tongue for muscle building calorie burn (for part of the working week, anyway). FitPerez, a combination of celebrity fitness news and healthy living advice, has recently gone live and the no holds barred blogger has said he wants to help his readers reject their junk-filled lifestyles after losing 61lbs himself over the last two fitness-filled years. Once a prominent detractor of aerobic exercise, Hilton appears to have come full circle and embraced body buffing sessions after saying that he feels not only healthier and more full of energy, but much happier, and wants his loyal fans to share his gym-goer glee.
If the self-styled (drama) queen of mean has some positive words to say about sweating it out, then there really is no excuse to shirk weekly work outs. Whether you pick poise perfecting Pilates or something a little more punishing, it'll get that blood pumping and help you on your way to being a svelte as the stars.