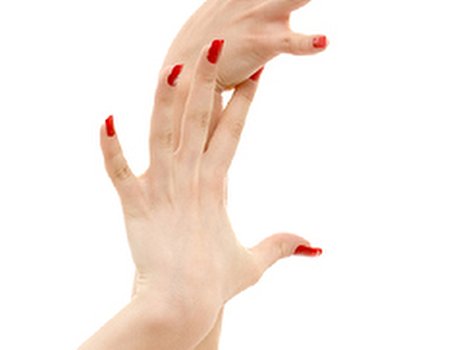 Don't be surprised if you glance across the dinner table in the coming months and spot seemingly unsightly chipped polish on the fingertips of your usually stylish friend. Forget French and don't mention Minx; thanks to New York fashionistas, the next big thing in nails is apparently splotchy, ragged and distinctly worn looking varnish.
Before you cancel your mani-pedi , bear in mind that this look has to be carefully crafted. To embrace the trend, you can't just sport any old chipped polish, it has to be delicately and deliberately applied. Nails must first be cut short, then filed and shaped (as during a regular manicure). A coat of clear varnish is then applied to protect the nails and left to dry. Next, an uneven-edged layer of coloured polish that reaches the tip of the nail, but finishes well above of the cuticle and stops short at either side is added to complete the 'illusion' of a days oldmanicure).
Fan of the look, American designer Amy Smilovic, posted a picture of her 'chipped' red manicure) on Facebook, and went on to explain her choice:
"When I was in London this summer, I had drinks with an editor from Vogue," she said. "She was of course tremendously chic and amazingly put-together. But her nails were red. And they were chipped. And it just made her so much more approachable somehow."
Could it be that keeping your fingers and toes perfectly polished sometimes makes you appear too...er, polished? Is a purposefully tatty set of talons a style do or a style don't? Let us know by tweeting @Wahanda.