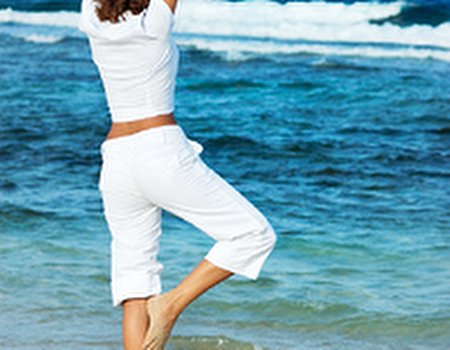 Yoga aficionados have long boasted about the calming and relaxing benefits of their exercise regime, but a recently published study seems to have finally added scientific weight to their chilled out claims.
According to research printed in the Journal of Alternative and Complementary Medicine, those who regularly practised yoga demonstrated an improved mood and showed lower levels of anxiety than people whose work out consisted of a weekly walking routine. Now that's certainly something to smile about!
Out of a group of 34 volunteers, 19 were randomly assigned an Iyengar yoga workout program and the remaining 15, a metabolically matched series of walking exercises. During the 12 week study, each group carried out their designated exercises for an hour three times a week. Participants were tested throughout, and their overall mood and emotional stress levels were carefully measured. The amount of a nerve and neuron calming neurotransmitter, gamma-Aminobutyric acid (known as GABA,) present in their bloodstream was also recorded with the help of magnetic resonance spectroscopy scans at the start and end of the study, as well as after every scheduled period of exertion.
Dr Chris C Streeter and his team found that the yoga group not only displayed evidence of a boosted mood and reduced anxiety levels, but also appeared to be producing higher amounts of GABA than those who spent three hours a week walking circuits. This suggests that specific areas in the brain related to relaxation and elevated mood are activated during yoga, enhancing the focused and contemplative tranquillity that its meditative stances promote.
Has yoga tempered your temper, made you more zen and soothed your mind as well exercising your limbs? Are you surprised by the results of this study, or does it confirm what you have suspected all along? Let us know by tweeting @Wahanda.