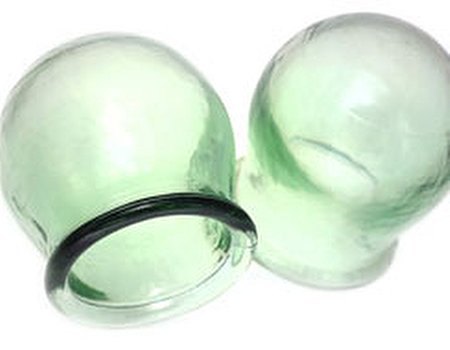 If you're tempted by the benefits of acupuncture, but the thought of all those needles turns your legs to jelly, why not follow in the footsteps of Jessica Simpson and give cupping a try?
In the past, Gwyneth Paltrow has been spotted with the tell-tale faded circular marks that cupping creates shortly after a treatment, but in the last week blonde bombshell Jessica Simpson has been enthusiastically detailing her experiences of the tradition on Twitter. The American songstress has recently embarked on a health and wellness crusade, and has been combining her ventures into cupping with meditation under the guidance of a Chinese healer.
"Shocked my system with a vegan diet, special Pu-erh tea from China, and cupping since Friday!", she explained via the micro-blogging site. She continued, "Has anyone ever tried cupping? When you know you are doing something good for your body the meditation creates intense visions. Love it!"
What is cupping?
It may sound like a slightly risqué alternative to traditional approaches, but the ancient Chinese practice of cupping involves the stimulation of the body's pressure points in an effort to cure a variety of ailments. The name of the treatment comes from the use of glass cups, which the practitioner places on the patient's back and then gently heats. The heating process is often carried out using cotton balls soaked in alcohol, which are then placed on top of the cups and carefully lit.
As they warm up, a vacuum is created between the base of each cup and the patient's skin. The skin is gradually sucked a few millimetres inside the cup as a result and blood is drawn to the area, improving circulation.
While meditation is well known for its calming and stress-busting effects, anyone who looks into cupping may be worried about what it feels like. Fear not - in the words of one patient, it 'definitely doesn't hurt'- the welts that Gwyneth was sporting are painless, soon disappear and there are no other physical side effects. During the treatment, people have described the sensation as similar to 'someone pulling at your skin', which may feel slightly strange at first, but is by no means unpleasant, especially if combined with a relaxing meditation session.
What it's good for
Health experts agree that cupping is safe and carries no risks, as long as it is performed by a trained and certified therapist. Supporters of the treatment claim that it helps with respiratory problems by opening up the chest and lungs, and can even benefit menstrual and digestive problems, too. However, the most common use of cupping is for localised aches and pains, which can be treated with specifically placed cups.
If you're looking for something to help zap tension and banish clouds of swirling thoughts from your hectic life, consider a cupping and meditation combo like Jessica – and follow her tweets on @JessicaSimpson to keep updated on how it's going for the de-stressed diva. You never know, if you take the plunge, it may result in a newly Zen you…