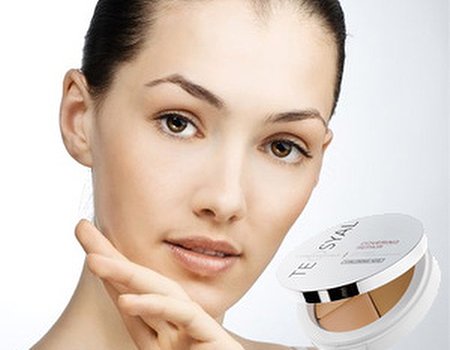 You may be proud of your newly plumped lips or unashamedly boastful when it comes to your use of Botox, but not everyone feels comfortable displaying the after effects of cosmetic tweaks.
If you're the kind of person who (whilst healing) would prefer to cover up rather than fess up to any discreet beauty boosts, choosing post-procedural make up can be complicated. Whether you want to hide areas of substantial discolouration or simply wish to blend away a few small bruises, finding a product that provides the right amount of coverage and contains non-irritating ingredients often involves a lengthy trial and error process.
Camouflage make up usually has a thicker consistency, is more highly pigmented and can be harder to match to your specific skin tone than regular make up. Its denser formulation can sometimes mean that it is prone to aggravating sensitive skin and this chemical content can even hinder healing.
Swiss dermal filler manufacturers Teosyal have recognised this gap in the market and have produced a cover-up product that is designed to give the illusion of flawless skin with the benefits of a repairing cream. Their Covering Repair compact has been developed in conjunction with TEOXANE laboratories and contains four shades of tinted skincare designed not only to cover spots, redness and dark circles, but also any imperfections resulting from aesthetic injections. As the compressed cream formula is also infused with bruise-healing arnica and rejuvenating hyaluronic acid, it is said to speed up the recovery process too.
The product comes complete with a sponge applicator and mirror in the minimalist casing. Four different shades of the same solid-to-cream make up are housed in the base: a sienna brown, a light pink tone, a peach and slightly more blush toned pink. The colour range is probably best suited to pink to dark olive skin tones (being quite pale, not even the fairest hue matched my colouring and the deepest shade would probably be a little too light for those with darker skin), but the ability to mix your own personalised colour using the shades provided is a definite plus.
The formula itself applies fairly opaque and when dabbed on, a thin layer does provide ample coverage with good durability. There is no real scent to the product, but it sets quickly with a matte, non-drying texture and provides a natural looking finish (meaning it can also be used as an extra coverage base to your regular makeup).
Unfortunately, I couldn't test the promised healing properties of Covering Repair, but with extracts containing the vital flavonoids needed to help decrease the permeability of blood vessels, I would think that the results would be similar to applying a thin layer or arnica ointment to the damaged area. When it comes to powerful yet natural cosmetic ingredients, hyaluronic acid is right at the top of the high-performance list too. It is produced naturally in the skin (but in decreasing amounts as we age) and helps with hydration, collagen production and skin renewal – essential in preventing the appearance of wrinkles.
Overall, the product looks like a promising option for those who want to temporarily hide evidence of injectibles or the latter stages of post-op recovery. Potentially beneficial without being particularly medicated, Covering Repair bridges the gap between cosmetics and compresses, leaving you looking healthier whilst you heal.
If you are looking for a more long term solution to scarring, problem skin or pigmentation, then why not check out some of the following treatments:
Chemical Peel - Suitable for the treatment of shallow scarring, this process involves forcing you skin to renew itself through the application of irritants and chemical solutions.
Semi-Permanent Makeup - If you wish to permanently camouflage or correct the outline and apparent texture of damaged tissue, then permanent and semi-permanent makeup that is tattooed onto the skin may be an option.
Photorejuvenation Treatments - If sun damage is your main concern, then photorejuvenation treatments (such as laser resurfacing or thermal radio-frequency technology), which stimulate plumping collagen production can help to firm and tauten affected areas.
For more information about Teosyal and Covering Repair, visit www.lifestyleaesthetics.com/home/teosyal-cosmeceuticals