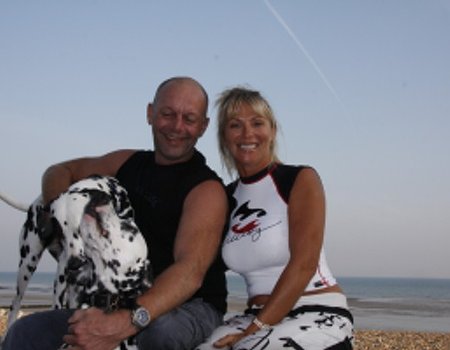 Hi all!
Have just returned to UK from working in Kenya on a training job in Lamu with a client - what a beautiful place! Have now got a busy period at the Beach Retreat with new clients, before starting work on the new Russell Crowe film 'Nottingham' later on in the year.
The Beach retreat has been going for nearly a year now and because of its ethos we have all types of clients with different individual aims, which means that no training period are the same and that is what I find so interesting. Some are sports based, others are actors preparing their physiques for a new role and a fair proportion are people just wanting to learn how to eat properly and lose weight.
Last week I started working with two gentlemen whose aim is to finally get to grips with their overeating problems. With them the two week period was spent mostly sorting out their nutrition and learning my ABACUS eating system with healthy walks on the Beach and South Downs. We also did a lot of cooking and learning how to make meals that not only support weight loss but also taste good, as they are not the type of people who are going to eat lettuce leaves for the rest of their lives! They are doing really well and lost 6 kgs over the 14 days. Now they will work the system and then return for top up periods at weekends over the coming year so that they can discuss any problems they might encounter and set new goals till their next visit. Have a really good feeling that this is going to work for them and though they are on a long and hard road I think they are ready to change and take control of that aspect of their lives.
Next week I start work with Abbi Collins who is a famous stunt coordinator and performer who comes to work with me about three times a year to prepare for upcoming work. At present she is preparing for world record attempt at car rolling which was set in Casino Royale in an Aston Martin - scary stuff but knowing Abbi, I am sure she will do it! She has just done a calendar of all the UK stunt ladies for which the proceeds go to 'Make a Wish Charity' - click here to have a look, its very original and great fun!
Anyone who is interested in using the Beach Retreat for whatever aim, they have should get in touch with either Mat or myself and we would be really happy to chat about it. Happy training and speak to you very soon,
Richard Smedley
Photo: Richard and Abbi Collins at The Beach Retreat in Lancing