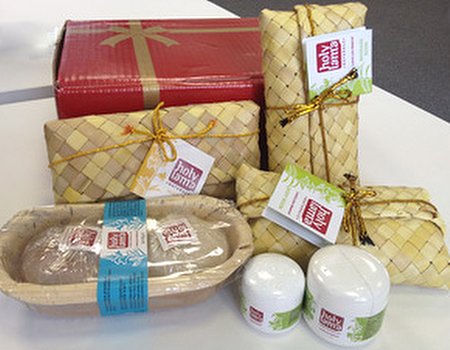 When anything product-based comes into the office, the following is guaranteed to happen: the ripping open of boxes, pulling off of lids, piercing of foils and the slathering of lotions and potions on every bit of exposed skin. Cue the next half an hour discussing said products and negotiations on who tries what first.
Holy Lama arrived in a bright red and gold box filled to the brim with goodies. Fellow writer Katie and I split the sets down the middle and dived straight into testing the miniature sized natural wonders.
The products
Holy Lama launched a natural body care range in 2000 after a long and established history of research into oils and spice extracts – their unique touch in the beauty world. The brand are also big advocators of the environment and sustainability, making sure they have minimal wastage in all products and that they are free of animal produce and eco-friendly. They are also socially responsible and have an all-women enterprise – employing women from disadvantaged backgrounds and supplying them with financial independence and a second family. Puts other brands to shame…
The treatment
I was given two Holy Lama Sets: Body Boon (£10.00) containing Holy Balm, Yogi Soap, Shower Gel and Body Lotion and Face Boon (£5.00) containing Face Scrub, Face Wash, Cleansing Lotion and Face Cream. Both came packaged in a beautiful woven like raffia pouch, wrapped in gold string and labelled with the products included. One thing that is quite prominent about the products is their scent; rich, earthy and spicy tones emit and you can really tell that these are natural ingredients.
The results
Body Boon is all about moisturisation. If dry skin can be a bit of a problem then this is definitely the set for you. The Holy Balm is thick and almost waxy in texture, and excellent for really dry areas like cuticles, elbows, lips and cracked heels. It almost reminds me a little of Elizabeth Arden's Eight Hour Cream but is more balm-like – a great go-to product for problem areas. The miniature Yogi soap boasts coconut and essentials oils with a long lasting fragrance. This was a little too much for me as I found it really lingered on the skin long after use – so it does as it should, but is a little OTT.
The Shower Gel carries the same scent as the other products, lathers up nicely and is very moisturising on skin. However, the Body Lotion holds a less intense and lighter scent with a consistency that's a lot thinner than the other products. If used in succession with the other products in the set you probably won't need a heavy body lotion anyway.
Face Boon is like a facial in a pouch. The Face Scrub is not as you'd expect – it's charcoal-like and quite waxy and smooth in texture. It's almost like a mask rather than a scrub; not great if you really want a deep scrub and clean but still good for a facial detox. The Face wash is a gel-like formula, foams up nicely and left my face squeaky clean (after I had removed my make-up beforehand).
The Cleansing Lotion was pleasant but I found it wasn't quite enough to remove all traces of makeup – I needed a little extra help for my eyes.
Of all the products tested, the Face Cream was my favourite. The thick and rich texture is perfect for rubbing in after cleansing and it doesn't carry such a heavy and pungent scent. I usually really struggle with trying to find a good moisturiser, so I'm pleased to have found something reliable to add to my bathroom shelf. I do tend to stick to more fruity and floral scents so the spices and oils in this set wouldn't be my first choice – but if it's something you love then the brand is perfect for you.
For the complete set, check out Katie's review of Holy Lama's massage and hair products...