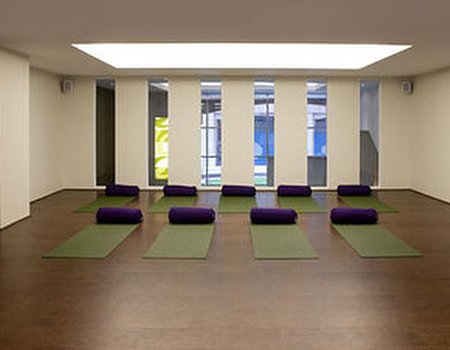 Normally you wouldn't associate light sabres, vintage corkage and hot mud with yoga - would you? It seems that Embody Wellness in South London has it all: the quirky gadgets, the innovative treatments and unique building materials. This new studio, launched in April 2012, aims to provide a holistic and integrated approach to wellbeing.
The 'light sabre' I mentioned is a new gadget from the States called Cleaner Yoga Mat (CYM) that uses the same technology found in hospitals to clean and kill bacteria from yoga mats using UV light. CYM is a no-fuss way to keep yoga mats clean without the need of wiping and spraying and can be purchased from the UK distributors Embody. Fun ensued recreating Star Wars fighting scenes...
And what about the corkage? Vintage 2012, the flooring in the yoga studio is covered with beautiful dark cork tiles - they are hygienic, comfortable under foot and temperature-efficient.
More about the hot mud later.
I went to the dynamic yoga flow class with Wilmien Bos, who expertly draws from different yoga traditions to take you on a unique yoga journey. Her sessions are all about reconnecting with yourself and not let external distractions get in the way of your yoga practice. I call myself an enthusiastic yoga amateur with 12 years patchy experience of practice and out of all the yoga instructors I have encountered, Wilmien has one of the most refreshing approaches to teaching yoga. By bringing it back to its essence and giving it an added dimension of building a nice rhythmic flow to it, egos are left outside the yoga class together with your mobile phone and shoes.
Wilmien explained to me her vision: "To help people remove all those layers that prevent them from knowing their true self, Atman. To bring people closer to their soul, their inner truth and that thread that connects us all."
Later, I was fortunate to try the incredible Parafango Body Bliss treatment.
Portuguese scuba diving-martial artist-beauty guru Ricardina Guimarães is the resident beauty therapy manager. Unlike visiting practitioners, she works at Embody Wellness on a permanent basis providing much needed continuity. The therapist community tends to be transient so it makes a difference when you find a therapist you like and you know that they are not going to move to a different location after a few months. This also makes perfect sense when you work with Ricardina on specific issues (chronic pain, cellulite, acne etc) as she focuses on results, and because changes in our body take at least 6 weeks to show through - continuity of treatment is essential. Ricardina offers both beauty and massage treatments including waxing and facials and has an impressive 25 years experience in the industry.
I had the Parafango Body Bliss treatment which includes an indulgent back and leg massage and the application of warm mineral-rich mud. This treatment is not messy at all as the mud is combined with paraffin so it literally peels off after the application. It is recommended to allow the minerals to soak into the layers of the skin so it is best not to shower for at least 2 hours afterwards.
Ricardina and I had a nice conversation about therapies, beauty tips and our common experience as therapists. She truly is a guru in my eyes and her own personal skincare regime including products, self massage and supplements is admirable. You can learn so much from her and I do recommend booking a course of treatments to achieve maximum benefits and learn about homecare advice by a true expert.
Starting from August 2012 Embody Wellness will also offer Caudalie facials and body treatments where you can choose from 4 types of facials to rejuvenate and energise the skin and all treatments use grape extract famous for its antioxidant properties. The Radiance facial is recommended for pigmentation and dark spots, I know I'll be having that one next!