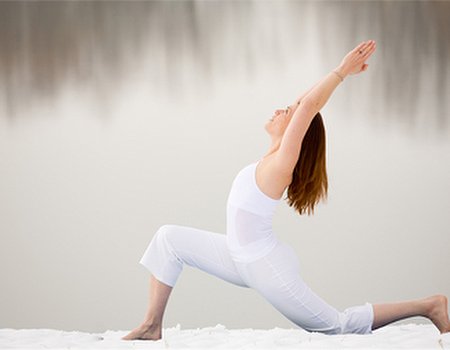 To mark the start of the Summer Solstice, US yoga celebrity Shiva Rea, the "Madonna of Yoga", lead an impressive one day workshop at the London Zoo organised by Body in Balance, the web and TV channel (Sky 275).
Attracting a large number of yoga teachers seeking to improve their practice, Shiva Rea has a natural leadership and teaching style. A dancer, Asthanga yoga, Tantra and Ayurveda practitioner, Shiva Rea was attracted by Vinyasa because this yoga style is flowing and musical. Accompanied by a live band reciting mantras to music, Shiva taught her form of Vinyasa flow yoga with precision and humour. She is also an extremely glamourous Californian lady who has inspired many women to sculpt their body the way she has.
Vinyasa means cycle, something that has a beginning, middle and end, as it associated with the moon and sun cycles. Each yoga pose is connected to the next to create a natural flow through the breath.
As someone who has been doing yoga on and off for more than ten years, and sporting what I can confidently describe as a "middle age spread", I found this type of yoga to be particularly challenging so it's not for the faint hearted! Beginners may want to try other styles of yoga first like Hatha before embracing a powerful form of yoga such as this.
The room was full of lithe yoga instructors who followed the asanas to perfection. Such a large class with more than one hundred participants can be difficult to follow. My humble efforts had to be contained to a little corner at the very outer edges of the room to avoid embarassment. Luckily, Shiva's teaching assistants were at the ready to correct postures and they did that with grace and poise without interrupting the flow. I did try my best though and two days later my muscles still feel the work from the session.
To be able to enjoy Vinyasa Flow you must have good levels of fitness to start with and a good attitude to rhythm. Ideally you should flow naturally from one position to the next and be able to sing or recite a mantra at the same time. I am not very good at multi-tasking so I can only concentrate on breathing or singing or doing a yoga pose at any one time, but doing all of them at once can send my brain into overdrive!
The exercises for the spine are extremely effective to gain a sense of expansion and freedom and are almost comparable to getting a good massage. I can see this yoga practice as a great way to combat Western society's sedentary lifestyle and prevent repetitive strain injuries often associated with desk-bound jobs.
If you can't follow Shiva in her worldwide tours, her website has all the links to her videos and classes. Body in Balance (Sky 275) also airs regular workouts with Shiva Rea shot in the most stunning locations worldwide. Triyoga in London offers Vinyasa yoga classes.