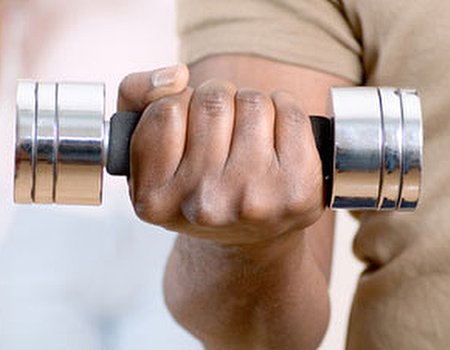 Have you ever heard of a prowler? No, me neither. It's one of the 'gadgets' used in Strongman training, the exercise class that has taken London by storm.
If you, like me, think winters are best spent on the sofa with a soft blanket over your legs, then think again: you can actually have fun, be outdoors and burn calories all at once.
If Saturday mornings are usually wasted on hangovers, Saturday mornings at the Albany Club with Chris Heron (www.chrisheron.com) are all about Strongman training, fun and fitness.
Don't get me wrong, I had a sinking feeling when I joined the class on the Saturday morning, mourning my warm bed and pjs.
But seeing more than twenty smiling people and motivated by the enthusiastic Chris, our trainer, all the mental fog and inner resistance cleared quickly and soon we were all pushing, pulling, lifting, running, tilting and hammering away.
My personal favourite was the 'crucifix' as it was the easiest exercise: lifting and holding weights at shoulder level. I also liked the kettle bells as they are very good for core stability.
I chickened out when it came to pushing the prowler - it's like trying to push your car when the engine has died. The 'farmer's walk' is an exercise where you have to carry a metal frame with weights and walk with fast, short steps on a straight line.
If you ever need to release some aggression, the sledge hammers are best: you get the chance to hammer away at an old tyre and it's very therapeutic! Talking of tyres, another challenge was to tilt a 200kg tyre and although I couldn't do it there were some strong and determined women in the group who could.
Lifting weights, carrying weights, pulling weight - dynamic exercises all performed outdoors give you an all-round workout and lift your spirits. We were all buzzing at the end and some were literally letting off steam from their bodies as the outside temperature was a measly -3 degrees Celsius!
Compared to other types of bootcamp training, Strongman is not shouty but encouraging and the emphasis is on team spirit and spurring each other on. Bring on the weekend with a burst of energy (you can always have a massage afterwards!).
Would you like to see what goes on during a Strongman session? Here's a short video: http://www.energyanaturalfacelift.com/2012/02/see-what-happens-during-a-strongman-training-session-video.