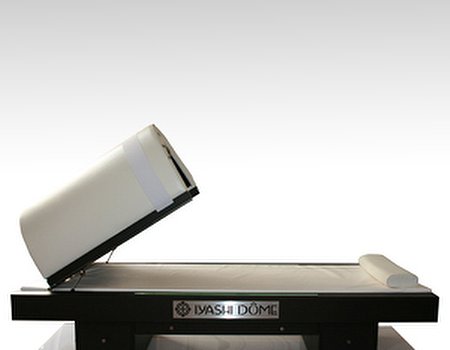 Christmas may still be a few weeks away, but it's time to start planning ahead. We all know the festive season means over-indulging with rich foods, so January is a time when most of us will be doing some form of detoxing.
I went to Mydetoxdiet in Greenwich recently to try the Iyashi Dome detox treatment, an infrared sauna that promises to help the body get rid of excess fat and toxins. The literature states that a 30 minute session can be effective in burning the equivalent of 300 to 600 calories by raising the heart rate and metabolism. You will still need to exercise and eat healthily to ensure you lose weight, but the infrared sauna is designed to aid to the process by boosting your metabolism.
The Iyashi Dome looks like a space-age cabin where you lie down and relax. The 'dome' itself covers your body, but your head is kept outside so it is more comfortable than a normal sauna.
The Iyashi Dome is used often in Continental Europe but is not yet well known in the UK. You are only supposed to be in the dome for half an hour, so this is a good treatment for people who don't have much time to spare.
When I tried the treatment, I felt that my muscles were more toned and more flexible at the same time. The therapist, Suzanne, told me that the infrared heat can ease muscle pain and in fact my back felt less sore after the treatment. I also suffer from eczema on my hands and after the session the skin on my hands felt smoother.
Suzanne also recommended that I undertake a juice detox to help the cleansing process and kindly gave me a one day detox supply including supplements, broccoli and wheatgrass shots. The juices all tasted very pleasant and they were quite filling because their fibre content was very high.
Come January, a little infrared sauna and some nourishing fruit and vegetable juices will certainly help anyone aiming to get rid of a few pounds. It is worth talking to the therapists at Mydetoxdiet to discuss your diet goals.