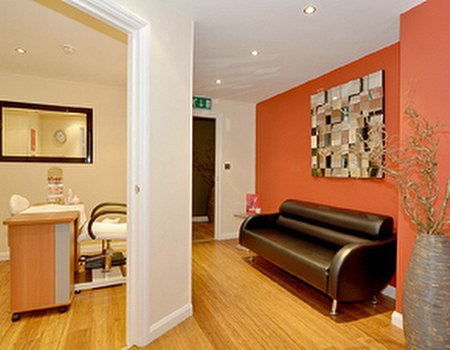 In the quest for 'baby bottom' skin, we'll try just about anything – masks, facials and perhaps even a few lasers. While not thrilled at the prospect of such vigorous exfoliation, we must bear in mind that microdermabrasion is one of the most popular beauty treatments on the market right now – it must be doing something right. As the temperature drops and we're granted fewer hours of glorious sunlight, our skin needs all the TLC it can get to ensure it survives the winter.
At Wahanda HQ we love the complete package, so coupling a facial with a Swedish massage seems like a no brainer - we tried both at the holistic haven that is MySpa Number 95.
The venue
MySpa at 95, a modest-sized spa located in a large, glass pharmacy on Streatham High Road, south London. MySpa boasts three ambient treatment rooms and three professional and knowledgeable therapists. MySpa is quick to spot and accessible by train, bus and foot with plenty of parking in the surrounding residential streets.
The pharmacy is stocked with a range of popular and obscure products imported from all around the world. Hidden away in a large pharmacy, MySpa is adorned with quaint Buddha statues and scented candles for an instantaneous calming effect. The welcoming gentleman on the main floor of the pharmacy explained that my therapist, Kirsten, would be with me shortly which gave me enough time to peruse the vast range of beauty and health products stacking the shelves.
The treatments
I was lucky enough to experience two treatments – a Therapeutic Swedish Massage and Diamond Tip Dermabrasion and facial.
Therapeutic Swedish Massage
A Therapeutic Swedish Massage is essentially a body massage focusing on the neck, shoulders and back. Kirsten began our session by asking if I suffered from allergies or muscle and joint pain. She led me to a warm, medium-sized treatment room, which was filled with soothing music.
Kirsten instructed me to remove my top and any jewellery, then to lie face down on the bed beneath the blanket. After several minutes unchanging and preparing, Kirsten returned to the treatment room where she asked whether I'd like more pressure and time on a specific area.
She also explained that MySpa use products by a Swiss company called Weleda, and grapeseed oil for the purpose of massage as it's suitable for all skin types, even the most sensitive skin. Kirsten worked in a rhythmic movement using a combination of gliding strokes and kneading to improve circulation and loosen up stiff muscles, then short bursts of hacking strokes to drive out toxins.
I found it very easy to relax and the dim lighting, soft music and gentle aromas encircling the room contributed greatly. Kirsten was very adaptable to my needs, and knowledgably explained the treatment beforehand, so I was free to unwind and my mind to wander.
After half an hour of divine massage work, Kirsten offered me water to help remove toxins and then left me to dress in my own time as I came down from my massage cloud.
Diamond Tip Demabrasion
The second treatment was a Diamond Tip Dermabrasion, which was also performed by the lovely Kirsten. She began by asking me my skin type and problem areas then thoroughly cleansed my skin in preparation for the treatment. Unlike Crystal Microdermabrasion which blows crystals on to the skin, Diamond Tip Microdermabrasion is suitable for darker skin types as well as fair skins. The diamond tip is more controlled, safer and better for exfoliating.
Kirsten began by using the medium diamond tip, which is the basic exfoliation tip. Tip heads differentiate depending on skin type, so dry or damaged skin requires a larger tip and vice versa. Kirsten briefed me before the treatment and explained that I may feel a light scratching on my skin. Though I was slightly dubious, the treatment was not painful in the slightest and suction from the vacuum from minimal.
Kirsten completed the basic exfoliation then changed the tip to the refined head which is used for deleting flaws and imperfections, hyperpigmentation, fine lines and wrinkles, brown spots, shallow acne and scarring, sun damage, dull skin, congested pores and can even plump the skin after a course of treatments. The change in tip felt different but never painful.
Kirsten finished the treatment by cleansing my skin then cooled it with a rose water mask. After a final layer of moisturiser, she applied suncream with an SPF50 and stocked me up with some to use over the next few days.
The result
The massage was relaxing and Kirsten was attentive to my needs. She gave me time to relax and enjoy the treatment, maintaining a suitable pressure throughout. Kirsten was careful to not talk to much and to allow me to enjoy my treatment. I found I had a mellow buzz for the rest of the day, and my posture felt more relaxed and less tense. I thoroughly adored my massage and recommend it to anyone in need of some undiluted stress busting or pampering. It was the perfect post-work wind down and I would definitely book in for another massage.
The facial left my skin soft and smooth, which lasted for several days and I wasn't red or blotchy in the slightest, which surprised me. Kirsten helped me feel comfortable with the treatment by explaining the procedure beforehand and reassuring me - a necessary touch. My skin glowed for days after my treatment, and it was less blotchy, prone to blemishes and generally more even - I even received a few compliments from colleagues!
The Therapeutic Swedish Massage costs £45 for 30-minutes or £60 for 55-minutes, and Diamond Tip Dermabrasion and facial costs £65 for a one hour session.