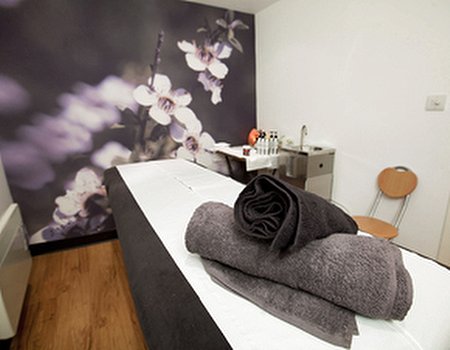 Honey has recently been in the spotlight as the queen bee of good health and skincare thanks to its anti-bacterial and water-retaining properties, with more and more natural brands taking to the hive to bring us beauty products that really work. As fans of the bee-inspired beauty trend, imagine our delight when we were invited to Comvita on Portobello Road: an undersized yet thoroughly stocked boutique store, specialising in natural health, skincare and Manuka honey. Playing guinea pig just for you, we tried out their Manuka honey facial to see if it's worthy of all the buzz…
The venue:
Comvita is a light and spacious west London boutique lined with a multitude of natural moisturisers, scrumptious scrubs and opulent oils. However, upon closer inspection, it's more than just a shop. At the end of a short staircase lies several cosy treatment rooms – Comvita is its own hub of products, treatments and expertise.
Located in trendy Notting Hill, Comvita is a 10-minute walk from Ladbroke Grove station and easily identifiable among the parade of vintage shops, quirky pubs and random restaurants. The store floor has an instantaneous calming effect, fantastic after a long slog at work or busy afternoon browsing the nearby market.
I was welcomed by a lady who introduces me to Lisa, my therapist. Lisa warmly greeted me then directed me toward the treatment rooms, giving me a chance to briefly scan the beautifully bottled products adorning the walls along the way before reaching a room specifically named the 'Manuka Honey room'. So far, so good.
The warm, dimly lit space was filled with the aroma of scented oils, and calming "whale music" circled the room. Lisa began by asking if I have any pre-existing conditions she ought to know, and whether I was on any medication or had undergone recent surgery. After a couple of questions, I signed on the dotted line and she politely asked me to remove my top layer and visible straps; then it was time to lay face-up before being covered with a towel so she can work her magic.
The treatment:
I was lucky enough to try the Signature Manuka Honey Facial, which costs £45 for 45 minutes and £60 for 60 minutes. Lisa began by gently cleansing the face to remove surface grime and makeup. She was very attentive; responsive to my behaviour, shifting from chatty to quiet at the drop of a hat, which helped me feel comfortable and remain relaxed throughout.
Lisa applied an exfoliating scrub to the skin to remove the dead cells and was so gentle with the coarse scrub that I could barely differentiate between the exfoliation and massage – surely the make of a fabulous therapist.
Next, Lisa whipped out a small machine similar to a handheld vacuum. It emitted a warm steam over the face to expand the pores so the honey facial can really work its wonders. Lisa admitted she prefers using a handheld steamer as opposed to placing a stationary steamer above the clients' face, as they can become very hot when concentrated on an area, and they've a horrible tendency to drip.
Lisa created the mask while I relaxed post-steam. She explained the mask is a combination of clay, essential oils, hydrosols (herbal water) and Manuka honey but it's very much dependent on the client's preference and skin type. She also took time to explain the beneficial properties of Manuka honey - it slows the signs of ageing and nourishes skin while smoothing the appearance of fine lines and wrinkles. The honey prevents dryness while promoting elasticity, so skin looks radiant and feels soft, firm and lifted. Lisa always makes the individually tailored masks while her clients are present so she is able to cater for different skin types whether it's combination, oily, sensitive or troublesome.
While the generously applied facemask works its buzzing magic, Lisa offered a hand and arm massage, helping me to forget about the slight tingling on my face and instead delve deeper into depths of relaxation – heaven.
Finally, the lovely Lisa carefully removed the Manuka mask using two pads then finished with a nourishing moisturiser. Before leaving the therapy room I was given a glass of water to bring me back to reality, and treatment aftercare advice – a nice touch. The leaflet suggested I drink plenty of water; avoid caffeine, nicotine and alcohol for the next few hours and to relax for the rest of the day.
The results:
In just 60 minutes I'd enjoyed a facial, hand and arm massage – a winning combination. My body and mind felt relaxed thanks to Lisa's calm nature and the soft music and my skin instantly felt brighter and firmer which lasted very much into the next day.
Before departing, I was shown the wide range of Comvita products and handed a few samples to ponder on the way home - a perfect end to my first honey experience. The only real disappointment was that the treatment had to finish...
Want to try the honey facial for yourself? Get in touch with Comvita or browse our honey facial offers for more inspiration.