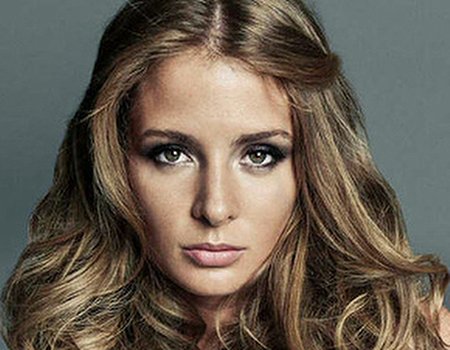 We can't help but be in awe of gorgeous Made in Chelsea star and professional makeup artist, Millie Mackintosh. Rarely seen with a hair out of place, Quality Street heiress, Millie, is a regular in glossy magazines and on our screens, and for good reason – she always looks great.
We've been wondering how she does it too, so, we've put all our burning beauty, health and Made In Chelsea questions to the lady herself. Read on for the full Millie Mac lowdown and find out how she achieves such flawless-looking skin, those luscious locks and how she manages to project such a confident body image.
Beauty
What's your beauty routine? I use one or two face masks a week. I use an exfoliating face mask once a week and a deep cleansing and hydrating mask like Manuka Doctor Rejuvenating Face Mask to thoroughly cleanse and restore my skin. My skin is reactive and changes with the season - it's oily during summer and then dry in the winter.
Where's your favourite beauty destination? I just tried the Spa at Bluebird in Chelsea, which is great for manicures and pedicures; it's local and a brilliant place. Plus, they do an incredible aromatherapy massage and fantastic body treatments.
I go to Daniel Galvin Junior for my hair. Since visiting, my hair's had a complete makeover and it's grown so much.
Do you use natural beauty products? Yes, definitely! I think that what you put on your skin is as important as what goes into your body. Every skin is different – mine's quite reactive and I don't like using chemicals. I'd rather use products derived from nature than a lab.
Although, science and nature mixed together can give good results. I like the fact that Manuka Doctor uses ingredients derived from bees. The | bee venom is harvested ethically so it's a natural ingredient that helps skin but doesn't harm bees. I also like that the products contain honey and plenty of research has gone into the range.
Do you prefer to do your own makeup and hair styling or to go to a salon? I prefer to do my own makeup but I enjoy getting my hair done. I always do my own makeup for filmin and when I attend events. The only time I won't is for a photo shoot that might require a certain look.
What's your favourite fragrance? I'm obsessed with Chloe for the daytime. At night I use Carolina Herrera 212 VIP - it's my sexy evening smell.
Have you got any makeup application tips? Regularly wash your makeup brushes to avoid spreading bacteria. Know your skin type - make sure you use the right regime tailored to suit you as well as the right shades of makeup. Always check your foundation in the daylight, and think about whether you have warm skin or cool skin tones when choosing products.
What's your favourite makeup look? Glowing sun-kissed skin with smokey eyes.
Tell us a bit about how you became a makeup artist? I worked during my gap year to save up to go travelling and managed to get a job at MAC over Christmas, which I really enjoyed. It's sparked my interest in makeup. I went travelling and when I came back I moved to London where I completed a makeup course. Since then I've worked at Space NK in London.
How important is beauty to you? It's a big thing for me and I'm into fashion too. I've always been interested in beauty products from nail varnish to makeup, fake tan to skincare - I can't get enough of it.
How do you keep yourself looking good on set after many hours? I keep my skin hydrated by drinking plenty of water and I regularly touch up my makeup. We have to use a lot of powder on set as the camera lights can make the room very hot. I use a translucent powder to take away any shine.
When I get back home after filming I've always got loads of powder on so I thoroughly cleanse my pores. I also use tanning products - these make me feel good all-year round.
Body confidence
What foods do you always have in your fridge? I always drink almond milk. Loads of fruit and vegetables because I make a lot of fresh juices. I like to have Manuka Honey for breakfast with mashed banana and cinnamon or porridge with almond milk and oats - that keeps me going until lunchtime.
I don't eat overly healthy though, I like to have balance in my diet. 80% healthy and 20% whatever you want is a good balance.
Do you cook/are you a good cook and what is your favourite thing to cook? I love cooking! My mum is an amazing cook; she used to have a catering business. My parents are big foodies - they used to have a delicatessen so I've always been brought up around good food and think I developed a mature taste for food at quite a young age.
My favourite things are good cheese and wine. I made an extreme Sunday roast recently - roast chicken with Yorkshire puddings - even though they aren't really supposed to go together. My favourite meal to cook is seafood paella.
What's your guilty pleasure and is there anything you'll refuse to eat? Italian food - particularly truffle spaghetti. I don't like raw onions but will eat most things.
What do you do to maintain a healthy lifestyle and keep in shape, has this changed since being in the show? I've become more conscious since the show. I guess I take how I look more seriously. It's about how I feel in myself. It's not about being thin; it's about feeling good in my clothes. It's about looking at my naked body and thinking I'm happy with the way I look. A year ago I was too busy to do exercise but now I try to fit it in. It's important to make it a part of your routine.
Do you have any body hang-ups and what do you like about yourself? I think we all have them, one or two. I carry most of my weight around my hips and that's something I notice if I've been partying a lot. If I go out and I'm drinking - which is high in calories - then I also end up eating a lot of carbs the next day. I am happy with my body though.
Made in Chelsea
How does it feel living your life in front of a lens? It's been weird, but great. It has been hard at times. It's taught me some amazing lessons; it's taught me about myself and it's made me stronger.
Do you get on with all the cast? Yes. I know some better than others. I saw them all last week actually.
Can you ever switch off from the show, what do you do to unwind? I like to read a good book, or just hang out with my good friends. I find cooking very relaxing.
Do you and Caggie share beauty tips? Yes definitely. I like to watch her apply her makeup.
Well Wahanderes, we may not look like Millie anytime soon but we think we could learn a thing or two from the makeup goddess...