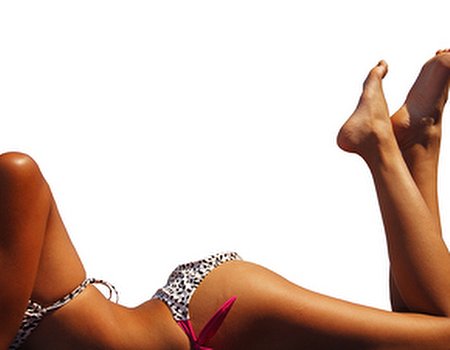 After two months of solid rainfall, we think it's only fair the Gods shower us with glorious sunshine for the rest of the summer. Let's rejoice - we can finally consign the chunky knits to the back of the wardrobe and go forth with bright, flowery pieces teamed with pretty sandals. But first we need to work on our skin tone…
If, like us, you want to avoid the vampire-in-the-sunshine look, then achieving a natural looking, long-lasting tan has never been simpler. We love faking it – spray tan can be applied all year round and can even stop the sun damaging our silky skin, so what's not to love?
To help you look every bit the bronzed beauty you want to be, we've compiled a list of tan-friendly tips to ensure your glow lasts as long as possible…
1. If you're using a self-tanning product or visiting a tanning salon for the first time, ensure you complete a patch test at least 24 hours beforehand. You want to achieve a beautiful bronze, not lobster red.
2. Gently exfoliate 24 hours before application, paying particular attention to any pesky dry areas (elbows, knees, and feet). The aim is to create an even base which will help your tan remain brighter for longer. This will also stop patches from developing. We checked – the leopard look is definitely not in this season.
3. We highly recommend coating fingernails in Vaseline or moisturiser to avoid your tan sinking deep into the depths of your nail bed – we wouldn't want to spoil your manicure.
4. DIY tanners, listen up. Until you've perfected your application technique, it's best to begin at the thighs, working in a downward motion. Next, the torso, and then the arms working towards the wrists.
5. To avoid 'Oompa Loompa' hands then apply tanning lotion to the back of one hand, using the back of the other hand to coat it. If you're using a spray, position your hand like a claw to stretch the skin on your knuckles and joints.
6. Steer clear of lengthy showers, public baths and the swimming pool to keep your tan topped up. Oh, and moisturise, moisturise, moisturise.
If doing it yourself seems a little daunting then don't fret – we've got plenty of spray tanning offers so you can go pro. And remember tanners: practice makes perfect – so get tanning the safe way and enjoy the glorious sunshine with plenty of SPF once you're finished. It's the coolest way to look hot this season…