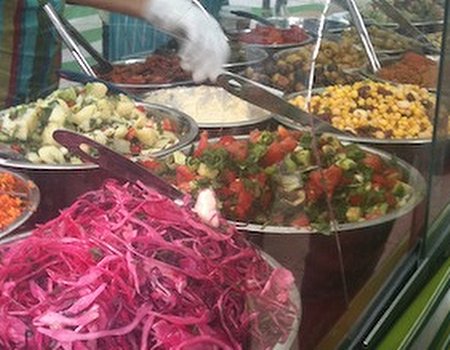 Overall:
My workouts have gone to plan, I've done 3 hours of Iyengar Yoga, 1.5 hours of cardio, 30 minutes of weight lifting, and 1 hour of pilates. All of which at the fabulous Virgin Active.
Although it's not always easy to drag myself out of bed, I find exercising in the morning is the best way to get it done. It seems whenever I plan on working out in the evening something else comes up, whether it's going out for dinner, working too late, or simply not feeling up to it. This week my goal is to ramp up the morning workouts and not miss a single day!
If you need convincing on why to workout in the morning, check out this article.
Good stuff:
Each day I have had organic greek yogurt with blueberries and organic granola for breakfast topped with a bit of honey. My lunches have been things like peanut butter sandwich on whole grain bread and a side salad, veggie dumpling miso soup, or mediterranean mezze salad. Dinners have mostly been soup and side salad or fajita veggie bowls with black beans and avocado. I can happily say I haven't had any cheesecake, snickers, french fries, or chemical laden drinks.
Challenges:
Although I haven't had any real 'junk' food, my diet hasn't been as natural as I had hoped.
Last night my husband and I hosted a barbecue and I cheated with some (not whole-wheat) pasta salad and a few too many glasses of wine- not to mention a few cheeky handfuls of kettle chips. It's much harder to stick to a super healthy diet when in a social setting.
How I feel:
This little competition has kept me motivated and aware of what I eat. I am feeling energized and have slept like a baby. I feel like this week was a good start, but I am hoping to do great things next week!