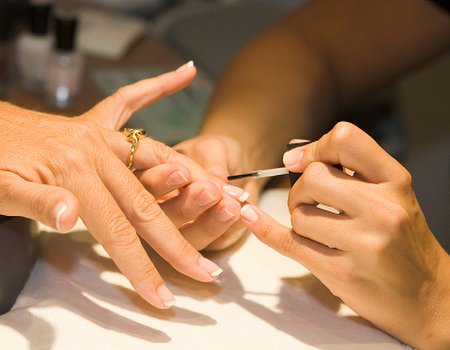 We know you love to paint your talons, but do you keep them spic and span? A scary research study shows how the love for extensions and false fingernails could lead to an increase in potentially dangerous germs across Britain.
Experts claim false fingernails are more likely to harbour harmful bacteria than shorter, natural nails because their length makes them more difficult to properly clean; as the average person carries more than 10 million bacteria on their hands every day, it's not hard to imagine this worrying figure rising when it takes into account people with long false nails, said the research by anti-bacterial hand gel brand Cuticura.
Looking at the issue from the financial side, hand hygiene could be costing the economy a staggering £10 billion a year in sick days due to the germs and bacteria that, lurking on people's hands, have been estimated to contribute to 75 per cent of illnesses resulting in sick days, leading to a total of 173 million days off work. Amongst the most common bacteria carried on people's hands are salmonella and E coli, which can cause food poisoning, fever and all sorts of unpleasant tummy related sicknesses.
According to research undertaken by Dr Hilton, researcher at Birmingham University, one in five men do not wash their hands with soap and water after using a toilet, and mothers and child carers only clean their hands 42% of the time after changing nappies. He commented: "It is well known that certain industries like catering and medicine require people to have short fingernails because they are regarded are more hygienic."
The emphasis is clearly on proper hand hygiene to discourage pesky bacteria: "I would urge people to concentrate on their fingertips when cleaning their hands and people with false fingernails to take even more time when washing their hands or they should use an anti bacterial gel to prevent germs hanging around."
Annie Horgan-Smith, marketing director for Cuticura, said: "Many people concentrate on cleaning their palms when washing their hands, but people's fingertips and nails harbour more germs than anywhere else on the hands. That's why people need to pay special attention to these areas with their hand hygiene habits and not just focus on their palms or backs of hands."
The study also found that married people could be bigger bacteria carriers than singletons due to the inaccessibility of the area of the finger under wedding rings which leads to a build up of bacteria; a good habit is to remove your wedding band at least while you wash your hands. Also remember to always methodically wash up after participating in 'high-risk' activities such as gardening, cooking, baby changing, and pet care.