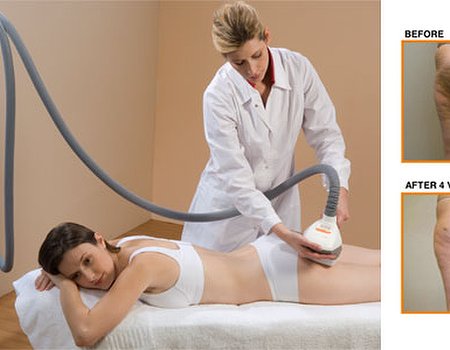 Hailed by A-listers as a life savers for squeezing into form-fitting gowns at the last minute, VelaShape™ is becoming a fixture in many women's beauty regime.
An FDA-approved non-surgical treatment for body-shaping and the reduction of cellulite, VelaShape treatment is virtually painless and delivers real firming and tightening results after only one session.
How does it work?
VelaShape uses Elos, a combination of Bi-Polar Radiofrequency, Infrared Light Energy, plus Vacuum and Mechanical Massage.The precise heating ensures a safe, effective and fast treatment, while the vacuum and the special rollers for the Mechanical Massage smooth out the skin.
Results include increased metabolism, better lymphatic drainage and reduction of the size and number of the actual fact cells in the well known problem areas. Over the course of four sessions you'll notice a gradual smoothing of your skin's surface, reduction of the 'orange peel' effect, inch loss and a visible reshaping of the area treated.
Designed to work on all skin types and free of side effects, VelaShape is suggested for shrinking thighs, smoothing hips contours, reshaping buttocks, tightening tummies, reducing 'love handles', and help with sagging skin after significant weight loss, or post pregnancy.
A great treatment to kick start your wellness regime, VelaShape is a quick and easy way to look and feel better - and worth trying with the summer season coming up.
Find a clinic offering VelaShape near you.
Why not check out our great deals on cellulite treatments to get you started?