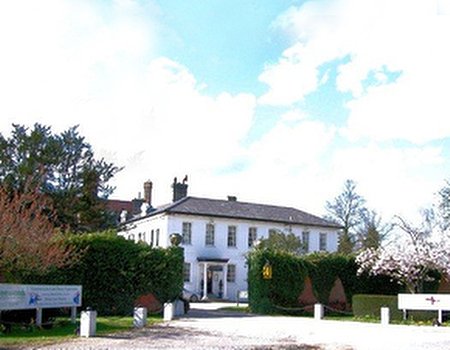 To anyone who ever thought a relaxing summer getaway had to mean hours of travelling, that the best thing in Essex was the Sugar Hut or that spa-ing was just for girls we've got one thing to say to you: "Shut-up!" Last week our very own (and very macho) Rob took his brother for a day of indoor swimming, poolside lounging, massages and afternoon tea with our exclusive £50 spa day at Greenwoods Hotel Spa and Retreat in Essex. Here's what he thought…
The venue
Nestled in the Essex countryside and less than an hour away from the hustle and bustle of London, this 17th Century, grade II manor house is the ideal place to throw on a fluffy robe and get ready to relax. Surrounded by beautiful landscaped gardens, Greenwoods Hotel Spa and Retreat might look small at a first glance but when it comes to chilling out, it has everything you could ask for. Arriving at the reception, the staff couldn't have been friendlier to my brother and me. With top customer service and an introductory guided tour of the facilities, we knew this was going to be a day of 5* relaxation…
The treatment
After getting changed, we headed straight to the spa area for a few lengths in the stunning, dark blue (heated!) swimming pool before sweating out a few toxins in the steam and sauna room. Lying around the pool on the loungers with a glass of cold, icy water felt pretty good after a long week at work and it wasn't long before we began to doze off. Before we knew it, it was time to tuck in to a delicious three-course lunch in the Rosewood restaurant, admiring its view of the terrace and surrounding countryside.
With lunch keeping us feeling full, we whiled away an hour in the spa's bubbling Jacuzzi before it was time for our treatments. I opted for a half-hour long back, neck and shoulder massage and the friendly therapist made me feel comfortable straight away. Relaxed and refreshed after some much needed kneading, it was time for afternoon tea in the drawing room. When we saw the selection of tea and cake on offer, we forgot all about our three-course lunch and had no trouble finding space for scones, sandwiches and other miniature treats.
After another lie down (hey, I was there to relax), a long walk through the grounds and a cool drink on the terrace were in order. A few sips and a few deep breaths of fresh country air and I was feeling a million miles from London - just what I needed after a long week.
The result
Being so close to the city definitely has its perks, and at only 40 minutes from London's Liverpool Street Station, Greenwoods is the perfect place to go for some quality wind-down time. As well as the clean spa area and easy and picturesque location the icing on the cake was the customer service. The staff at Greenwoods are so friendly and genuinely happy to help, it made us feel relaxed from the moment we walked in. And speaking of icing, the afternoon tea wasn't bad either.
Fancy heading to Greenwoods Hotel Spa and Retreat? You can book yourselves in for only £50 per person for a limited time only...