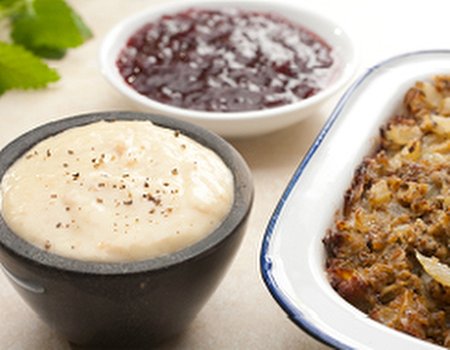 Christmas is definitely a time for indulgence. You've worked hard all year, been to the gym and heeded all of the advice on our food blog – so now's the time to reward yourself. Of course, if food intolerances leave you following a gluten-free or lactose-free diet, then treating yourself can be easier said than done...
If we've learned one thing from Tiny Tim, it's that nobody should be miserable at Christmas. With a few alterations, lots of recipes can be adapted to remove gluten or lactose – making Christmas dinner a feast everyone can look forward to.
Thanks to the team at Genius Foods, we've got a series of great gluten and lactose-free recipes lined up – kicking off with this one for bread sauce. Let the countdown to Christmas begin...
Bread Sauce
Bread sauce provides an aromatic and creamy accompaniment to the traditional Christmas roast and is easily adapted for gluten and lactose free diets, by using Genius bread and Lactofree milk.
Serves: 6
You will need:
1 small onion, cut across into halves
Whole cloves
500ml/¾ pint of Lactofree milk
2 bay leaves
Plenty of fresh black pepper (4 grinds)
A pinch of freshly grated nutmeg
½ tsp of salt
4 medium slices of White Genius Gluten Free Bread, whizzed into fine breadcrumbs
30g/1oz dairy free butter substitute
Method:
1. Stud the cut side of the onion halves with the cloves and place, cloves down in a medium, heavy bottomed pan.
2. Place the bay leaves, nutmeg, four grinds of black pepper and salt with the milk into the pan and slowly bring the milk to a gentle simmer. Simmer for five minutes then remove from the heat and leave the ingredients to infuse until the milk is cool. Strain the flavoured milk through a sieve into a clean pan.
3. Gently reheat the milk to a simmer and stir in the breadcrumbs. Stir slowly over a low heat until the breadcrumbs are soft and swollen and have thickened the sauce.
4. The sauce should be creamy in consistency, so add a splash more milk if it is too thick.
5. Just before serving, stir in the butter, taste and season with more salt and freshly ground pepper, as necessary.
Excited by the thought of a Christmas meal that's tailored to your intolerances? Keep an eye out for more 'free from' posts coming soon. Worried about piling on the pounds over the festive season? Check out our detox and fitness deals and start planning your New Year's resolutions now.