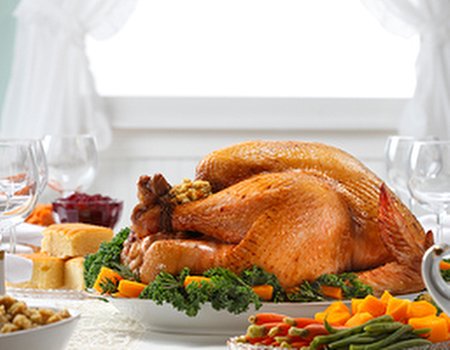 Yesterday we shared a tasty recipe for gluten and lactose-free bread sauce – and today we've got another tempting treat to tickle your taste buds. We reckon that no festive dinner is complete without stuffing – and this delicious apricot, orange and chestnut version from Genius Foods is a real (Christmas) cracker. Time to tell that turkey to get stuffed...
Apricot, orange and chestnut stuffing
This gluten-free recipe is for a 5.53kg/12lb oven ready turkey and can be made a day in advance.
You will need:
1½ onions, very finely diced
2 sticks of celery, finely diced
2 tbsp of oil
2 level tsp salt and eight generous grinds or 1 level tsp of black pepper
4 cloves of garlic, finely chopped
450g/1lb minced pork belly
400g/14oz tinned unsweetened chestnut puree
4 medium slices of Genius white or brown bread, whizzed into fine breadcrumbs
1 tbsp each of finely chopped leaves of fresh thyme, sage and curly parsley
Zest of 1 orange
110g/4oz dried ready to eat apricots, roughly chopped
1 egg, beaten
Method:
1. Place the onion and celery in a pan with the oil. Season generously with salt and pepper and gently fry, covered with a lid, until the onion is very soft and sweet. Add the garlic and fry, stirring constantly, for a further 30 seconds. Remove from the heat and leave to cool.
2. When cool, tip the softened onion mixture into a large bowl with all the remaining ingredients and thoroughly mix together with your hands.
3. Push the stuffing into the neck end of the turkey. Cover with the skin flap and secure with a skewer.
Got the munchies just thinking about it? Head on over to our food blog for more creative ideas to get you busy in the kitchen.