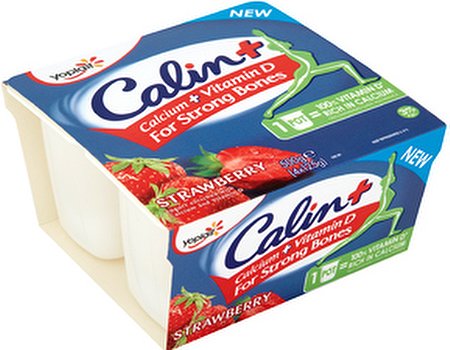 You might have heard a lot about vitamin D recently. Recent data from the National Diet and Nutrition Survey (NDNS) indicates that intakes of vitamin D are worse than ever and falling. Currently a quarter of adults in the UK have blood levels of vitamin D too low to sustain normal bone health, putting us at risk of health issues like fractures. Fortunately for us all, yoghurt manufacturers Yoplait reckon they've found a solution.
Calin+, the new yoghurt from Yoplait, contains 100% of our recommended daily amount of vitamin D and 50% of calcium, and has been proven to have a positive effect on our vitamin D levels.
Before launching the yoghurt, a study was conducted to investigate the potential for Calin+ on bone health on 60 elderly women living in care homes. Half ate two 125g pots of Calin+ every day over a 56-day period and the other half consumed two pots of non-fortified control yoghurt. At the end of the trial serum levels of 25 hydroxyvitamin D had increased significantly in the Calin+ group compared to the control group.
Vitamin D levels are so low in the UK because we absorb most of our vitamin D through sun exposure and – as most of you are probably aware – we don't get a lot of that. Foods like oily fish, eggs and some spreads and cereals are another source, but only account for 10% of absorption, and even then very few of us eat enough of them. Eating just one pot of Calin+ a day is a great way to boost vitamin D levels, without moving south of the equator.
Yoplait have also helped launch a new information group: the Bone Health Information Panel (BHIP). Led by experts, BHIP aims to provide news, information and facts on bone health and vitamin D, explore research and discuss the latest scientific and medical food thinking.
Dr Carrie Ruxton from BHIP says of the new yoghurt:
"Products like Calin+, which provide 100% of the vitamin D RDA in just one 125g pot (i.e. 5 micrograms - EU) will make it much easier for people to get enough of this vital bone health nutrient. It is also notable that daily consumption of Calin+ will also provide 50% of the calcium RDA. As a result, Calin+ is set to help maintain healthy bones as part of a balanced diet."
Best of all, each 125g pot contains only 125 calories and less than 2.3g saturated fat and comes in three delicious flavours: strawberry, cherry and vanilla.
Calin+ is available from Tesco, Morrisons, Sainsbury's, Asda and Waitrose, RRP £1.99.