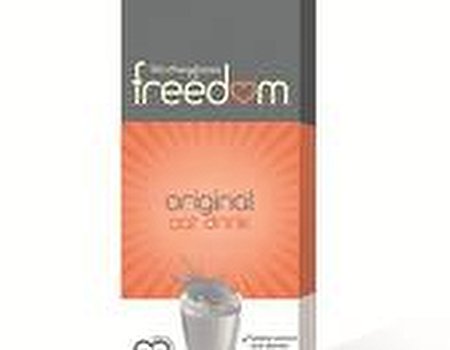 'New York City has no power, and the milk is getting sour, but to me this is not scary, 'cause I stay away from dairy...'
There may not be a power cut at the moment, but there are plenty of other good reasons to heed Friends character Phoebe Buffay's advice on dairy. Whether you have food allergies and intolerances, are watching your weight or are simply looking to follow a healthy diet, Worthenshaws-Freedom Rice and Oat drinks can provide you with a tasty non-dairy alternative to cow's milk. Move over, cows – there's a new kid on the block...
Worthenshaws-Freedom was created by young mum Kirsty Henshaw and received backing last year from Peter Jones and Duncan Bannatyne, two of the 'dragons' from the BBC's Dragon's Den. The launch of the new rice and oat drinks follows the success of a range of frozen desserts last year, and they have been designed to appeal to the whole family – good news if your lot tend to be a bit fussy.
The Freedom Rice and Freedom Oat drinks are both free from dairy, sugar, gluten, soya, cholesterol and lactose, so are suitable for people with a wide range of food intolerances. Looking for a bit of a health boost? Both drinks contain protein, iron, fibre and calcium to help keep your body in good working order. Freedom Oat drink also contains B vitamins, vitamin E and folic acid, whilst Freedom Rice drink contains over 10 enzymes to aid digestion. Who knew that you could pack so many good things into one carton?
Kirsty says, 'My son Jacob is intolerant to dairy and has always been the inspiration for my products.  I'm so pleased that he can now enjoy the simple things that most of his friends take for granted like breakfast cereals with milk. 
'As well as my products being suitable for those with allergies and intolerances, it has always been important for me to create products that taste great and can be enjoyed by everyone. The Oat and Rice drinks really can be enjoyed by the whole family as a delicious alternative to dairy milk.'
Fancy trying the Freedom Rice and Freedom Oat drinks out for yourself? The drinks are perfect for pouring over cereal, adding to sauces or drinking warm before bedtime. Purchase yours from ASDA to see what you think – but ssh, don't tell the cows.