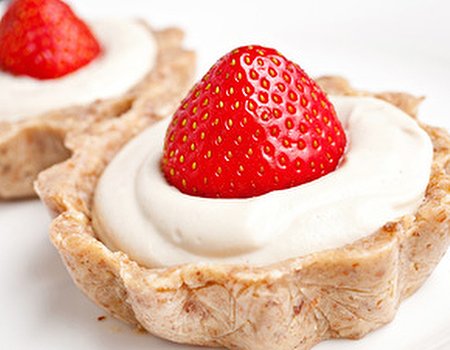 White shorts, green courts and ruby red strawberries. Ladies and gentleman Wimbledon 2013 is upon us. After almost a week of watching world-class athletes compete we've been inspired to up our own fitness game. First step, put down the strawberries and cream. Actually, just the cream. Thanks to raw food expert Rebecca Kane we've found an equally delicious way to eat strawberries that is even better for you.
Rebecca Kane, who experienced many health benefits (and lost four stone) after switching to a raw food diet, is the author of cookbooks 'Turn Your Shine On' and 'Shine Inside and Out'. Her Raw Strawberry Tarts are gluten free, dairy free, egg free and wheat free and were inspired by none other than five time Wimbledon Champ Serena Williams - who also follows a raw vegan diet. These tasty little tarts look beautiful and taste delicious, so if you feel like serving up something a little healthier this summer we think you'll love these…
You will need:
6 dates
½ cup (roughly 50 grams) ground almonds
½ cup (50 grams) ground cashews
Melted coconut oil (at least 150 ml)
Pinch of salt
1 cup (140 grams) of cashews soaked for at least 30 mins
2 Tbsp vanilla extract
Agave syrup (at least 150 ml)
1 punnet of fresh strawberries
1 - 2 tbsp dried strawberries
Method:
Make the bases for your tarts by placing the dates and water into a food processer and blending until you have a date paste.
Add the ground almonds, ground cashews, 1 tbsp melted coconut oil, a teaspoon of vanilla extract and a pinch of salted and blend until all the ingredients are well combined.
Press the mixture into paper tart cases using your fingers or a teaspoon and pop in the freezer to firm up.
Begin making the 'cream' by blending together the whole, soaked cashews, 120ml melted coconut oil, 1 tbsp vanilla extract, 2 tbsp agave and three tbsp water until the mixture is smooth and creamy.
Next, make the syrup. Blend together 65g of fresh strawberries, 120ml of agave and 1-2 tbsp of dried strawberries until you get a consistency you are happy with – adding more dried strawberries will thicken it up if desired.
Now the fun part: assembling your tarts. Take your bases from the freezer and pour a little cream into each one. Place a beautiful fresh strawberry on the top and cover with a generous coat of syrup.
Finally, put one on a plate, put your feet up and put the tennis on. Perfect!