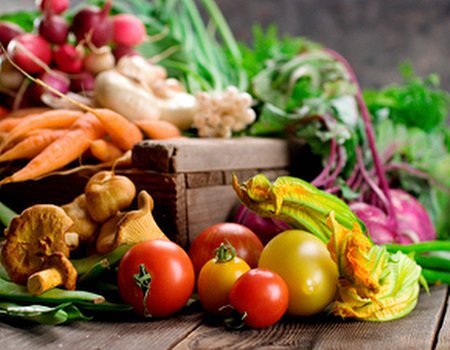 Hands up who's seen the word 'superfood' used within the confines of a supermarket, café or a foodie website? Is it just a gimmicky PR term used to announce a healthier option or are we eating superfoods all the time and just don't know it? We decided to find out what is really so super about the foods that carry the label…
A superfood is used to describe a food with a high nutrient or phytochemical content (a chemical compound found in plants) with loads of health benefits and few negative properties. As the name suggests, superfoods are the heroes of healthy eating, the crème de la crème of the crop. What's more, they're all around us – apples, blueberries, baked beans, garlic, chilli; the list goes on.
Superfoods are brimming with positive health properties but as with most foods, some are better at targeting areas than others. We know carrots are good for seeing in the dark (or so our mothers told us) and spinach is good for strong muscles á la Popeye – but here's a rundown of what to buy when you need a specific boost…
Fatigue
If you're feeling drowsier than usual from extra hours at the office or the topsy-turvy weather, then Jerusalem artichokes are for you. The Jerusalem artichoke contains the highest level of iron, helping to fight fatigue and tiredness while boosting metabolism and concentration. Sometimes referred to as the sunchoke, it's high in phytochemicals and dietary fibre as well as containing vitamin C, A, E, and B-complex. We're adding it to next week's shopping list.
Joints
If you've suffered an injury or find your joints a bit creaky - which is common in colder temperatures - then hemp seeds are the food for you. Hemp seeds battle inflammation to improve discomfort from joint pain as well as the metabolism, and even keep the old ticker in check. Hemp is a very rich source of those mighty phytonutrients; omega 3 for brain function, and omega 6, while also being the highest source of complete protein. We know it can be a little fiddly so pop those seeds in a scrumptious salad, or snack on them when you feel peckish.
Hair and skin
We're constantly shelling out on new beauty products to make our hair shiny and our skin flawless but most things start at home, so eating the right food might just turn us into a glowing goddess – well, we can hope. Cucumbers are a great source of phytonutrients, helping to reduce skin inflammation, while their large levels of silca, a skin mineral found in collagen, has a firming effect. High in vitamin C and water content, these salad staples will keep you and your skin hydrated and happy. What's more, they're sold pretty much everywhere and cheap to buy – cucumber sandwiches, anyone?
The brain
The brain, the central processing unit, the money maker - responsible for our rubbish jokes and great decisions. Where would be without it? Let's not find out and stock up on blueberries instead. This popular fruit is brilliant at protecting the brain from oxidative stress; the humble blueberry is filled with vitamin C and antioxidants, which aid neural and cognitive function including memory. Sometimes considered the daddy of superfoods, 100g of blueberries is equivalent in antioxidants to five servings of other fruit and vegetables. What's more, these sweet, little beads of health slow down mental ageing and help skin look younger – and they taste good too.
Menopause
We know the menopause is inevitable but the symptoms associated with it aren't. Rich in phytochemicals, rhubarb is famed for its ability to reduce hot flushes in perimenopausal women. Full of potassium, vitamin C and dietary fibre, the rhubarb's root is said to contain oestrogen-like properties, so this is definitely one for the ladies - as if we needed another excuse to eat that delicious rhubarb crumble…
We understand most foods contain both positive and negative elements, but with superfoods you know you're getting your money's worth of good health.
Happy eating!