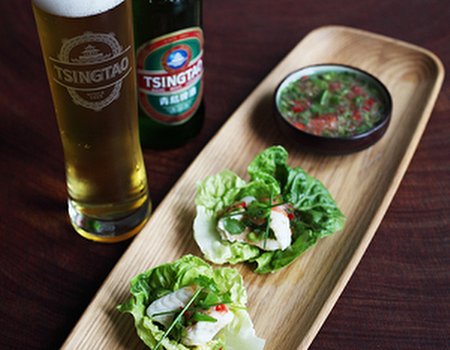 Happy Chinese New Year everyone! We don't know about you, but we're definitely planning on celebrating in style this evening with some delicious home-cooked food. After all, the Year of the Dragon doesn't roll around all that often...
This delicious recipe has been created by TV chef and cookery author Ching-He Huang, and is a great way to combine the health benefits of lean haddock with metabolism-boosting chilli and healing ginger. Ok, so it does contain a bit of beer – but what a great way to indulge without breaking your January no-drinking resolution!
Tsingtao Beer poached haddock with a zesty spicy dressing served on gem lettuce
Serves: 4 as an appetiser
This makes a light and delicious appetiser. Tsingtao Beer is used as a poaching base for the fish, which absorbs the bitter-sweet notes of the beer. Some of the poaching liquid is then cooled and used to make an intense fruity and aromatic salsa verde, which is then used to dress the fish and served on gem lettuce for an easy, elegant and satisfying starter.
Ingredients:
300ml Tsingtao Beer
350g (two fillets) haddock, skin on (MSC certified North Pacific Halibut or Scottish Haddock)
Pinch of sea salt and ground white pepper
For the Chinese style salsa verde
1 tablespoon fresh root ginger, grated
1 red Fresno chilli, deseeded and finely chopped
1 green Fresno chilli, deseeded and finely chopped
1 lime, zested, juiced
50ml cooled poaching liquid
4 tablespoons groundnut oil
½ grapefruit zested, segemented
1 tablespoon light soy sauce
1 tablespoon sweet chilli sauce
1 tablespoon soft brown sugar
100g sugar snap peas, sliced into 1cm slices on an angle
1 small handful of finely chopped coriander
¼ teaspoon sea salt
2 heads of gem lettuce leaves, about 16-18 leaves
Method:
1. Prepare all the ingredients for the salsa verde and mix well. Set to one side.
2. Bring a medium pan or wok of the beer to simmering.
3. Place the fish fillets into the liquid and poach for 4 minutes until the flesh turns opaque white and is cooked through. Remove from the liquid and place on a plate.
4. Reserve the liquid to make a delicious soup - retain 50ml and cool at room temperature before adding to the salsa verde for a sweet beer flavour.
5. Remove the skin and break up the fish into 2 inch pieces Season the fish pieces with salt and ground white pepper.
6. Place each piece on gem lettuce and spoon more of the salsa on top. Serve immediately for a great appetiser.
Tip: You can poach the fish fillets then serve the pieces on some baby spinach leaves dressed with the salsa over the top to turn this into a light healthy supper for two.
Has this recipe got you in the gourmet mood? Keep an eye on our fabulous food blog this week for more tasty recipes and meal ideas, coming soon.