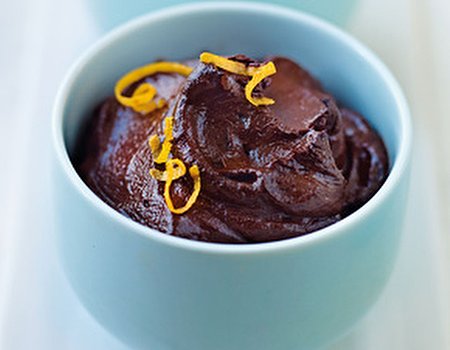 Here at Wahanda we've tried all manner of food fads and fitness trends to firm our wobbly bits, drop a few pounds and generally feel a little lighter. Yogalates, baby food, the 5:2 (we loved the first five days), we've tried them all. And while each has an army of followers who swear by it for weight loss and other benefits, they don't work for everyone.
Well hold onto your yoga pants ladies because we think we've found something that might just work for us all. We like to call it 'making and eating food that is healthy but not boring' – catchy huh? We're beginning our revolutionary new lifestyle today with Dale Pinnock's super-food dessert: Cheating Chocolate-orange delight...
Taken from his cookbook 'The Medicinal Chef' (read our review here) Dale's cheating chocolate pudding is actually made from avocados. Packed full of oleic acid and the fat-soluble antioxidant vitamin E, avocados are great for high cholesterol, healthy skin, the heart and circulation – they don't call them a super-food for nothing. But how do you transform a ripe, green, health-boosting avocado into a tempting chocolatey treat that, according to Dale, "has fooled even the most hard-core of chocoholics"? Add a few magic (and equally healthy) ingredients.
You will need:
2 very ripe avocados
Finely grated zest and juice of 1 large orange
1 tablespoon honey
3 tablespoons high-quality cocoa or raw cacao powder (available in many health food shops)
Method:
Halve the avocados, discarding the stones. Scoop out the flesh with a spoon and put it in a food processor.
Add the remaining ingredients and process to make a thick, rich, mousse-like dessert.
Add extra cocoa powder or honey to make it sweeter or more chocolatey.
Serve in a cocktail glass or ramekin.
Our verdict:
This recipe was incredibly easy to make. Start to finish it took about 15 minutes (not including time for washing up) and is possible even if you don't own a food processor – providing you have a strong arm and a good fork. We ended up adding extra honey to ours to make it a little sweeter and while it didn't fool all of the diehard chocoholics among us we all agreed it was amazing to see the humble avocado transformed into something so rich and chocolatey. The taste is certainly unique and very moreish. Definitely one to serve up at future dinner parties - partly for the look on people's faces when you tell them what they're eating.
Image: ©Martin Poole