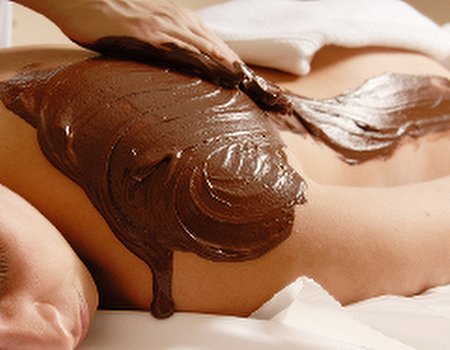 When we were little, we were always told not to play with our food. Naturally, now that we're grown up and can do what we want, we're determined to rebel against every adult who ever told us that – which is why we're fans of all the fun foodie treatments available on the site.
If someone had told your four year old self that it was ok to have chocolate or honey smeared on your face, you'd never have believed them. After all, that sort of behaviour gets you in trouble, doesn't it? Not at Wahanda. We've got lots of fantastic treatments that harness the health and beauty giving properties of food to leave you looking and feeling better than ever. Just make sure you stick to the ones listed here – putting your face in your soup at a restaurant is really not a good look...
Chocolate
If you love chocolate but don't love the way it sticks to your hips, why not put down the Galaxy and treat yourself to a naughty but nice spa treatment instead? Try a chocolate manicure and pedicure to nourish your nails, or truly indulge with a luxurious chocolate body wrap. All the fun and none of the calories? Yes please!
Salt
In too high a quantity, salt in your diet can be harmful to your body. There is nothing, however, to stop you from surrounding yourself with salt crystals if you want to – in fact, it can be pretty beneficial. Halotherapy harnesses the therapeutic power of salt to treat a variety of respiratory conditions including asthma, allergies and bronchitis. It's probably best to go to an established salt cave for this one – a few boxes of sea salt from the supermarket just aren't going to cut it.
Fish
For many of us, the word 'fish' conjures up an image of a tasty fillet of salmon or a tender tuna steak. However, as we learned from the sharks in Finding Nemo, fish are friends, not food – and very helpful friends they can be too. A fish manicure or pedicure will remove the dead skin from your hands and feet in no time, and fish analytics will even help you to identify particular problem areas. Don't blame us if you feel guilty eating sushi afterwards, though...
Batty about Beluga? Try a caviar facial for a fishy treatment that's really upmarket.
Wine
If only there was a way you could enjoy plenty of wine without having a hangover the next day...Vinotherapy is a liver-friendly spa treatment that makes use of the grapes discarded during the wine-making process. Powerful anti-oxidants in the grape pulp help to nourish your skin and reverse the signs of ageing – which is a lot more than you can say for that third glass of Rioja.
Honey
Honey honey, how you thrill me...We're taking a leaf out of Abba's book and going barmy for bees. Fans of the sweet stuff will love our deals and offers on honey facials and honey massages – perfect for helping you to relax.
Of course, if you do insist on eating your food instead of covering yourself in it, you can always have a look at our fabulous food blog, or find details of nutritionists near you. Bon appetit!