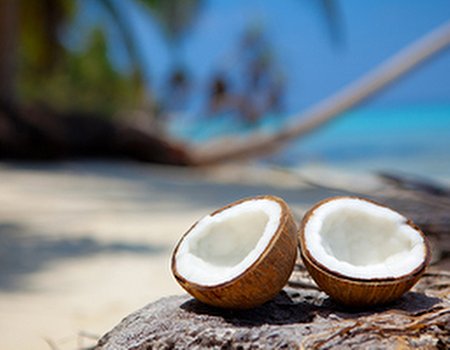 It may be a bit cold and gloomy outside, but at Wahanda HQ we're feeling rather tropical. Never ones to shy away (geddit?) from trying new things, we were only too happy to receive the latest offering from Caribbean supplier Grace Foods. After all, Courteney Cox and Demi Moore swear by coconut juice for its health-giving properties – so who are we to turn it down?
In a (coco)nutshell, Grace Coconut Water Smooth is a great alternative to other, more artificial soft drinks. Ditching your can of Coke for some Caribbean goodness will help quench your thirst, rehydrate your body and improve energy levels. We've got to warn you though – the tropical taste may make you forget that it's actually Autumn. Don't blame us if you find yourself turning up at the office in Bermuda shorts...
Nyree Chambers, spokesperson for Grace Coconut Water, said, 'Coconut water is not new to Grace Foods, but we noticed a demand for the drink without the original coconut pieces. We are delighted to launch the smooth version, so more people can not only benefit from the healthy aspects of coconut water – the ultimate thirst quencher - but the delicious taste as well.'
So what did the Wahanda Tasters make of this bit-free beverage? Even though it was slightly sweeter than other coconut waters on the market, we really enjoyed the fresh taste - and thought it was perfect served chilled. A drink that's delicious and good for you? What's not to love?
You'll be glad to know that you won't have to shell out much for your coconut fix – Grace Coconut Water is priced from £0.59-£0.69 at Sainsbury's, Tesco, Morrison's and independent food stores. Much cheaper than flights to the Caribbean...
Nuts about coconuts? Have a read of our blog on Royal Green coconut creams for a further taste of the tropics.