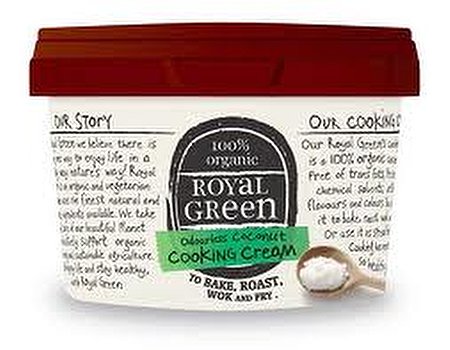 If health queen Jennifer Aniston, Victoria's Secret model Miranda Kerr and the fabulously fit England rugby team swear by a product, then you know it must be good.
Forget olive oil or vegetable oil – these fitness fiends are nuts about coconuts. Miranda even attributes her post baby bikini body to coconut oil, saying, 'I personally take four tablespoons of coconut oil per day, either on my salad, in my cooking, or in my cups of green tea.'
Want to follow Miranda's lead? We reckon it's time to grab your sunglasses, put on some calypso music and get tropical in the kitchen...
We know it's tempting to go running to the bar and order a pina colada for that coconut kick – but we've got a better way to include these nourishing nuts in your diet. Royal Green's new flavoured cooking creams are free from chemicals, preservatives, and synthetic additives – always good to hear. They also contain less calories than most other oils, so are brilliant if you're watching your waistline.
Not quite convinced enough to give up frying things in butter? Royal Green's coconut cooking creams contain at least 50% lauric acid, a nutrient with natural antiviral, antimicrobial and antifungal properties. They also retain all their health benefits when heated - which is more than you can say for olive oil, butter and margarine. Sorry, but it's time to lose the Lurpak...
Worried that everything will taste like coconut? These clever creams provide all the health benefits of coconuts, without the aroma or flavour. Instead they are combined with garlic, herbes de provence and spices for a taste explosion that will rock your kitchen.
Here are some of the recipe suggestions from the lovely people at Royal Green:
Royal Green 100% Organic Coconut Cream With Herbes De Provence (basil, savory, garlic, lavender, oregano, rosemary)
Roast mouth-watering chicken legs with Herbes de Provence, or bake delicious chipolata sausages with a spicy salad of small potatoes, parsley and rocket.
Royal Green 100% Organic Coconut Cream With Spices
Stir-fry haricots verts, or bake a vegetable omelette. Marinate a whole chicken, sprinkle with some extra sea salt and bake it crispy and golden brown in the oven.
Royal Green 100% Organic Coconut Cream With Garlic
Stir-fry fresh vegetables for an extraordinary garlic 'bite'. Spread it on some pieces of sourdough bread and grill them until they are crusty, or bake lamb chops with rosemary.
We don't know about you, but we're feeling pretty hungry now...
Want to get yourself a lovely bunch of coconuts (well, coconut creams?) Royal Green's flavoured cooking cream range is available from www.naturalorigin.com. Alternatively, why not try Pukka Herbs Coconut Oil, available from www.pukkaherbs.com.
Feeling peckish? Don't forget to check out our food blog for more tasty ways to stay healthy.