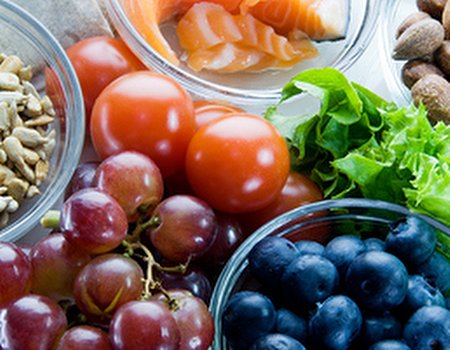 Eaten a bit too much over Christmas? Yes, us too. We've even had to undo the button on our jeans…
Of course, being the health and wellbeing fanatics that we are, we're not going to let it stay that way for long. In order to give our systems a bit of a break, we're plunging headlong into our January detox. Time to say goodbye to the rest of the Baileys and that leftover Christmas pudding…
If you're finding it hard to know where to begin with healthy eating, don't panic – we've got some great tips from nutritionist Ilona Wesle, who is co-founder of MyDetoxDiet. Print off her advice, stick it to your fridge door and follow it for seven days for increased energy, clear skin and a trim tum.
1. Avoid black tea, coffee and alcohol. Instead, drink herbal tea - for example, nettle is great at supporting the kidneys, or try MyDetoxDiet's 7x7 tea to cleanse the liver.
2. Drink at least 1 litre of water per day – ideally more. Keep a bottle by your desk and sip regularly – you'll be amazed how easy it is if you drink little and often.
3. Drink fresh juices, e.g. carrot, beetroot, apple and cucumber as they are fantastically nourishing and cleansing.
4. Avoid processed foods e.g. ready meals, savoury snacks and biscuits. Instead eat food in its natural state. Cook it by steaming, lightly boiling or poaching – this way you will keep most of the goodness in the food (and retain the full flavour)
5. Chose organic food in order to minimize your intake of toxic pesticides. Even if you can't make every item organic, do the best you can – it will make a difference.
6. Eat at least five portions of fruit and vegetables per day – ideally more. At lunchtime and for dinner, aim to cover at least 60% of your plate with vegetables and eat as much variety as possible
7. Reduce your consumption of animal products. Avoid dairy and replace milk with soya or nut milks. Lentils, beans, quinoa, seeds and nuts are good protein alternatives.
8. And finally, you can support the detox process by getting a good night's sleep, trying yoga or Pilates, treating yourself to a massage or infrared dome session (in order to sweat out the toxins) and exercising regularly.
Now then, that doesn't sound too hard, does it?
For more information, visit our MyDetoxDiet and Iyashi Dome page. Alternatively, check out our fitness hub for everything you need in order to start the year as you mean to go on.