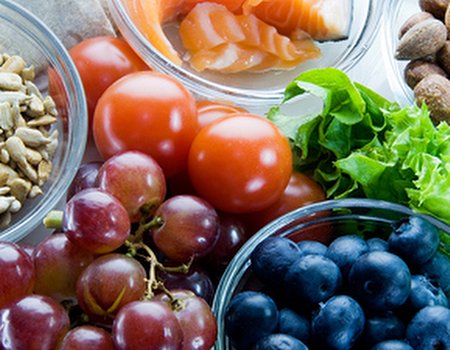 They say 'you are what you eat', and while this may not be literally true (although we spent a good part of our childhood believing runner beans would indeed make us run faster) we get the idea. Eat well and feel well, and, as it happens, look well too.
In an ideal world we'd all be eating the perfect balance of vitamins, protein and carbohydrates (they're not all evil) and buzzing around full of beans – literally this time - enjoying clear skin, a girlish figure and swishing our super shiny hair. In reality, it's just not always the case. No matter how healthy our intentions, busy lifestyles often mean eating away from your veg-stocked kitchen and choosing foods out of convenience rather than nutritional value.
Eating out and socialising are a big part of this, so to make healthy eating a bit easier for us all, here are our top three restaurants in London that won't ruin the detox.
Amico Bio
Italy has long been known for its culinary expertise, introducing beloved dishes like pizza and pasta to the world. Delicious? Yes. The best way to get your five a day? Unfortunately, no. Unless, you swap your local Italian for the wonderfully healthy and tasty Amico Bio. Situated in Clerkenwell, Amico Bio is London's first vegetarian, organic Italian restaurant which operates a 'green thinking, better living policy'.
On the menu you will find enticing salads, meat-free pastas and wholemeal risottos all created using fresh, seasonal ingredients are from the Amico family farm in Capua, Italy. Try the Pennette integrali broccoli e tofu – that's wholemeal pasta with broccoli and tofu for an Italian alternative that ticks pretty much all of the healthy eating boxes. And if you do feel like being a bit naughty, take comfort in the fact that even the wine list is organic and vegetarian. Buon appetito.
Smiths of Smithfield
If vegetarian isn't your thing and you're looking to satisfy a meat-tooth it has to be Smiths of Smithfield. Located in the heart of Smithfield Market – London's only working meat market – Smiths offers a diverse, meat-centred menu made up of 'the best of British', 'the best fish' and some 'rare breeds'.
Smiths has always been about providing simple food made from the finest ingredients, proving that eating healthily doesn't have to mean rabbit food. Although it is perhaps not advisable to eat a 1kg T-bone every night, we all need protein and iron and good meat is one of the best ways to do this. A great alternative to burgers and ribs for any meat lovers.
Watatsumi
Japanese food has taken the culinary world by storm in recent years, with sushi in particular quickly becoming a favourite among many of us for lunch, dinner or a fun, healthy alternative to fast-food. Raw fish isn't for everyone though. If the idea of it makes you squeal but you're keen to jump on to this healthy bandwagon, why not try Watatsumi?
Located in Trafalgar Square, Watatsumi is an elegant Japanese restaurant that - despite serving some of the best sushi and sashimi in the city - is dedicated to proving that there is more to Japanese cuisine than raw fish. With an innovative menu boasting a wide range of fresh, healthy ingredients combined to create new, contemporary, and most importantly, cooked dishes, Watatsumi has a healthy little something for everyone.