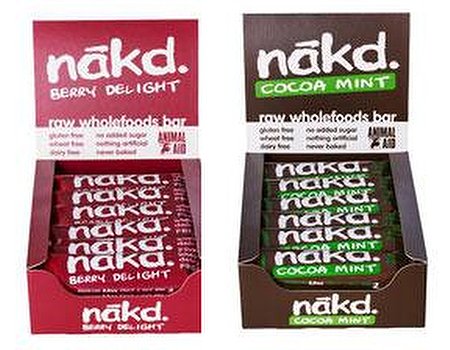 No, we're not propositioning you inappropriately – we're recommending our new favourite healthy snack. Made from 100% natural ingredients and free from added sugar, NAKD fruit and nut bars make a great guilt-free alternative to biscuits, cake and chocolate. The really good news? They taste so good that you'll never look back...
This sweet treat isn't just ideal for those looking to live a healthier lifestyle – it's a dream come true for those suffering from food intolerances. Free from gluten, wheat and dairy, these bars will brighten up your morning tea break or help beat the afternoon slump – always good to hear.
Made from raw fruits, nuts and spices, the NAKD bars are a quick and easy way to make sure that you eat healthily, whether you're in the office or on the go. Just shove a couple in your bag in the morning and you'll never have to put up with stomach rumbles again...
Sick of your usual snacks? There's no need to worry if you get bored easily – the NAKD bars come in a range of different flavours. We love the Cocoa Mint for a cheeky chocolate fix, but you can also treat yourself to Berry Delight, Cashew Cookie, Cocoa Orange, Ginger Bread and Pecan Pie. Decisions, decisions...
Want to give these brilliant bars a go for yourself? Visit www.naturalbalancefoods.co.uk to find out more or place and order. Whilst you're waiting for it to arrive, why not check out our food blog? We've got plenty of recipes and recommendations to help you stay healthy and happy.