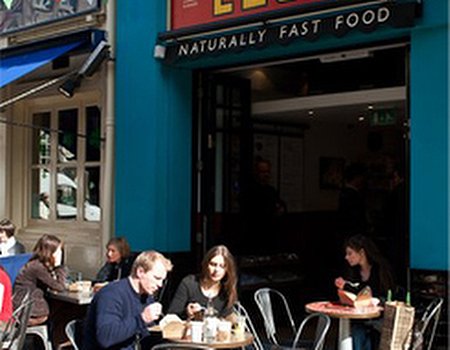 The Wahanda Tasters are often to be found forming an orderly queue at nearby healthy restaurant Leon. We can't get enough of their tasty lunches – and the fantastic news is that they're packed full with nutritious ingredients, too. Guilt-free eating has never been so delicious...
Even if you manage to successfully follow a balanced diet at home, it can be hard to keep up a healthy eating routine at work. Time constraints, poor canteen food and a lack of nutritious options in the shops mean many of us end up grabbing chocolate, crisps and uninspiring sandwiches on our lunch break. The result? A lack of essential nutrients and a grumpy set of tastebuds. Thankfully, the lovely people at Leon are here to turn everything around...
Leon (www.leonrestaurants.co.uk) was established to provide busy people with 'fast food' that is both tasty and nutritious – a combination that is often hard to find. All Leon dishes are prepared using high quality ingredients – from seasonal veg, to carefully sourced meat and flavoursome herbs and spices. The company also caters for those with who are vegetarian, as well as those who are wheat, dairy or gluten intolerant – so that everyone can have a mouth-watering lunch, whatever their dietary requirements.
There are so many tasty treats at Leon that we can't begin to list them all, but here are some of our favourites:
Hummus and flatbread – Leon's hummus is a far cry from the acidic dip that you find in many supermarkets. We think it's perfect as a mid-morning snack or a tasty accompaniment to your main meal.
Moroccan meatballs – These moreish (or should we say Moorish?) meatballs are cooked in a flavoursome plum tomato and garlic sauce. Served in a box with rice and fresh coleslaw, the meatballs make a terrific takeaway lunch.
Lemon ginger crunch – Love a bit of cake? This clever creation combines the best elements of lemon cake and ginger cake – brilliant for those who find it hard to make a decision.
Feeling peckish? So are we. Why not put paid to those hunger pangs with a trip to Leon, or catch up on more foodie news on our food blog.