Pancake Day is here (AKA the one day out of 365 when you get to eat cake for dinner and not feel guilty about it). Except, after pancake number six we do start to feel a bit guilty about it, not to mention bloated and a little sick. This year, we've decided to spare ourselves the guilt 'flip' by tucking into healthier pancakes. Put down the chocolate spread, grab your mixing bowl and take a look at these healthy swaps and toppings to see you through Shrove Tuesday without the sugar rush…
Simple Swaps
Swap butter for low-fat spread when making your batter and don't use it to grease your pan. Drop a small amount of vegetable oil into the pan before the batter to stop your pancakes sticking without adding unnecessary fat.
Swap whole milk for semi-skimmed, or even skimmed. Whole milk contains 3.5 per cent fat whereas semi-skimmed contains about 1.7 per cent and skimmed between 0.1 and 0.3 per cent. Making this swap will lighten up your pancake batter without affecting taste or texture.
Swap plain flour for wholemeal flour. Wholemeal flour is high-fibre and proven to reduce levels of cholesterol, blood pressure and risk of cardiovascular disease. It might give your pancakes a brownish tint (and a lower GI rating) but other than that you won't notice much of a difference.
Tips for toppings
Lemon and cinnamon
A natural sweetener, cinnamon works to regulate blood sugar helping you to feel fuller quicker and control sweet cravings that might otherwise have you reaching for pancakes number six and seven. Sprinkle it over a good drop of lemon juice which, despite its acidic taste, is an alkaline food – currently all the rage with celebrities - that helps to restore balance to the body's pH.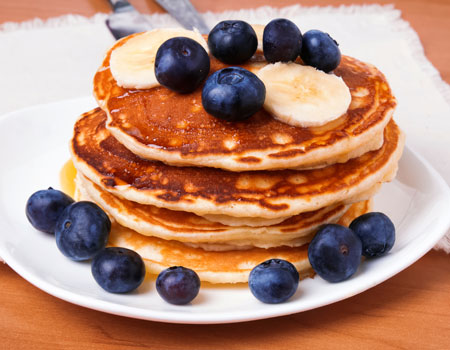 Berries
They might be small to look at, but when it comes to health and nutrition, blueberries, goji berries and even raspberries are what experts call 'super foods'. Berries taste great with a big dollop of cream, but for a healthy and satisfying alternative try low-fat crème fraiche. Super indeed.
Banana and honey
Full of potassium, bananas are good for everything from blood pressure to bones to giving up smoking – seriously, they're high in vitamins B6 and B12 which help the body recover from nicotine withdrawal. Slice them up and drizzle with nature's favourite sweetener: honey. Honey is full of natural sugars that boost energy as well as anti-oxidant and anti-bacterial properties that are great for the old immune system.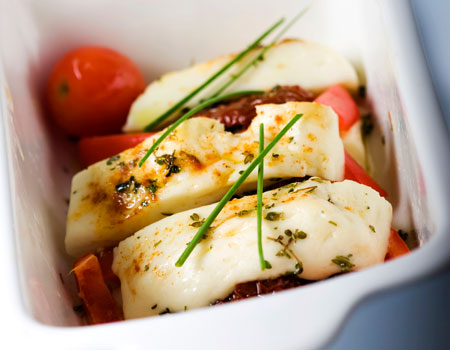 Roasted veg and Halloumi
When it comes to savoury pancakes, fatty ingredients like bacon and melted cheese are usually what spring to mind. This year, try roasting vegetables like sweet potato, carrots and mushrooms with garlic and onions and serving with a small amount of grilled halloumi. Halloumi doesn't melt like other cheeses making it easier to keep track of how much you're eating, plus its strong salty flavour mean a little goes a long way.
Chicken stir-fry
A bit like the classic crispy duck pancake, only without the high fat – albeit delicious – flash-fried crispiness, a chicken stir-fry pancake is a great savoury option if you're making crêpe-style pancakes. Stir fry strips of chicken and vegetables in a bit of oil, garlic, ginger and soy sauce and serve with a little fresh lettuce to give it a figure-friendly crunch.