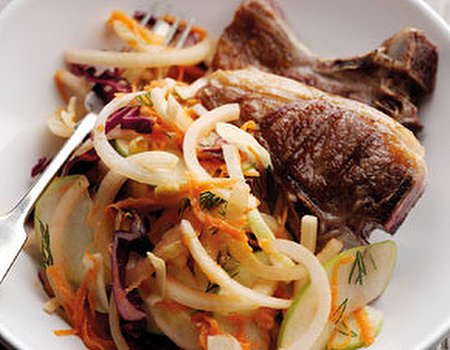 Summer's finally here and it's time to pack away our winter coats and swap boots for flip flops- hooray! We're loving the prospect of sitting out after work in the garden to soak up the last of the rays with a delicious meal and a refreshing glass of wine. We're done with craving hot dinners and it's time to embrace crisp, fresh salads and healthy meals to get us in shape for our holiday beach bodies.
This is a lighter version of your usual mayonnaise covered coleslaw from the team at British Onions that can be made ahead and stored in the fridge. You can serve this crunchy coleslaw with salads, steaks, grilled salmon, jacket potatoes, in fact you can add this to the side of any meal...
Super healthy coleslaw with lamb chops
Serves 4
Preparation Time: 25 minutes
Cooking Time: 10 minutes
For the winter slaw:
¼ red cabbage, finely shredded
¼ white cabbage, finely shredded
4 carrots, peeled and grated
1 British red onion, peeled and thinly sliced
1 green apples, cored and thinly sliced
1 tbsp lemon juice
2 tbsp dill, chopped
Handful lightly toasted pine nuts
For the dressing:
2 tablespoons Dijon mustard
1 tsp caster sugar
3 tablespoons olive oil
2 tablespoons walnut oil
3 tablespoons red wine vinegar
For the lamb chops:
1 tsp cayenne pepper
2-3 tbsp oil
8 lamb chops
Salt and freshly ground black pepper
Method:
1. Make the dressing by mixing all the ingredients together in a jar - giving them all a good shake. The dressing can be made ahead.
2. Place the shredded cabbages, carrots and onion in a large mixing bowl and mix well. Toss the apple in the lemon juice and add to the vegetables along with the dill. Add the pine nuts just before serving.
3. Add the dressing and mix well, allowing the flavours to infuse together.
4. For the lamb chops, mix together the cayenne pepper and the oil until well combined. Rub the lamb chops all over with the mixture, then season, to taste, with salt and freshly ground black pepper.
5. Heat a griddle pan over a medium heat; add the lamb chops and cook for 2-3 minutes on each side, or until golden-brown on both sides and cooked, but still pink in the middle.
6. Serve the lamb chops with a serving of the healthy coleslaw.